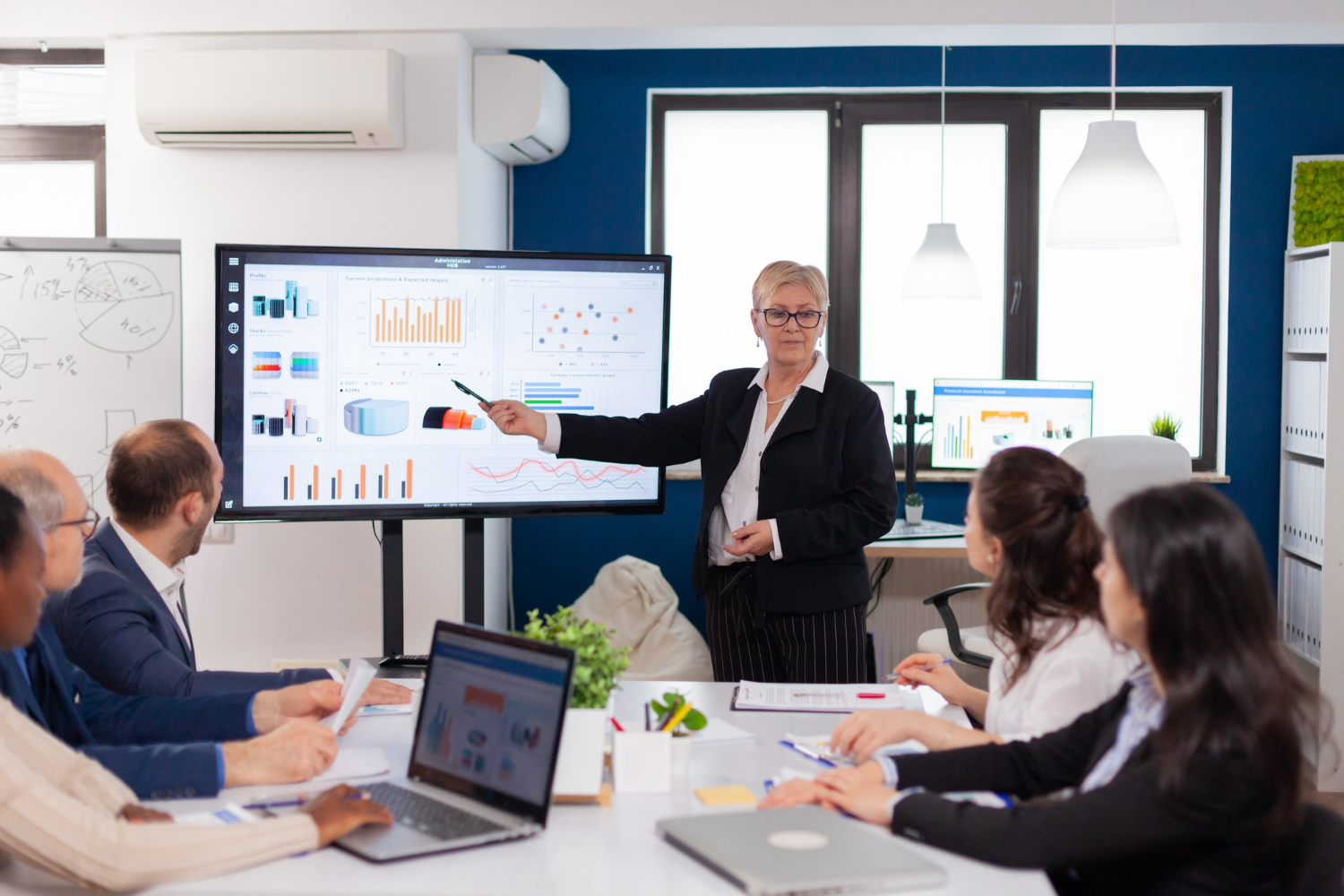 The advent of AI presentation makers has revolutionized the way presentations are created and delivered. These tools combine the creativity of humans with the power of artificial intelligence (AI) to produce visually attractive and highly engaging presentations. With AI presentation makers, users can easily create professional presentations that capture and retain the audience's attention. From selecting and customizing templates to adding graphics and multimedia elements, these tools offer a wide range of features that make the presentation creation process both easy and fun.
AI presentation makers leverage machine learning algorithms, neural networks, and other advanced methods to analyze data and generate content that reflects human creativity. The software offers a range of features that can help users create visually appealing and interactive presentations.
AI presentation tools use sophisticated algorithms to analyze the content of the presentation and identify patterns and trends. They can make suggestions for improving the visual design and layout of the slides. These tools give users access to data and content, allowing them to generate slides with images, charts, graphs, and other elements tailored to their specific needs. Additionally, users can add AI voices to their presentations, giving them an added layer of customization and interactivity.
Whether you are a professional looking to develop effective ad campaigns or a social media influencer looking to engage your audience with visually appealing presentations and AI voices, AI-powered presentation tools are your answer. In this blog post, we will discuss the advantages of using AI presentation makers and see some of the leading tools in the market that give you an edge.
Advantages of AI Presentation Tools 
AI presentation tools offer numerous advantages over traditional presentation methods, including faster and more efficient content creation, increased audience engagement, and improved accuracy and consistency. In this section, we will explore the benefits of AI presentation tools in more detail, highlighting how they can help users quickly create visually stunning and highly engaging presentations.
Automatic Content Creation 
One of the most significant advantages of AI presentation makers is their ability to automate the content creation process. This means that users can generate content and suggested images for their presentations simply by inputting a topic. The AI algorithms within the presentation maker analyze the topic and use natural language processing and machine learning techniques to generate relevant content and suggest appropriate images.
For example, imagine that a user wants to create a presentation on "Renewable Energy." By inputting this topic into an AI presentation maker, the user could automatically generate slides with content discussing various forms of renewable energy, such as solar, wind, and hydropower. The AI algorithms would also suggest relevant images to accompany the text, such as pictures of solar panels or wind turbines. This automation saves the user time and effort in researching and creating content for their presentation.
A study by Skyward found that content with relevant images gets 94% more views than content without relevant images, highlighting the importance of visuals in content creation. 
Consistency 
A second advantage of using AI for presentations is that they ensure consistency across multiple pieces of content, which helps the audience to follow and understand content more easily. A presentation can appear united and professional by using consistent design elements such as fonts, colors, and layout. This consistency also helps to strengthen the brand message and enhance the credibility of a business. 
Time-Saving 
AI presentation tools can save time by automating repetitive tasks such as formatting, editing, and proofreading. They reduce the time it takes to create presentations and also develop speaker notes for the content. These tools assist businesses in producing high-quality content faster because users do not have to spend a lot of time researching and developing content. The tool does it all for them.
Customization 
AI presentation makers allow users to add text, pictures, and music of their choice to create personalized and engaging presentations. This helps in creating slides that resonate with the target audience, ultimately improving engagement rates.
Interactive
AI presentation makers can be used to create interactive presentations that engage the target audience in new and exciting ways. Users can add rhetorical, open-ended, or multiple-choice questions to encourage discussion or incorporate activities, such as group discussions, brainstorming sessions, or role-playing exercises to reinforce key concepts, encourage collaboration, and promote learning.
Top AI Presentation Tools in 2023
Choosing the right AI presentation tool can be challenging, given there are so many options in the market. To help you make an informed decision, we have curated a list of some of the best AI presentation tools, with detailed information on their features, benefits, and pricing.
Murf AI 
Murf can help you create voiceovers for your presentations in a fraction of the time it takes to do so manually. Users can upload a pre-recorded audio file of their entire presentation and convert it into a professional-sounding voiceover using Murf's AI voices. Murf offers an extensive range of 130+ AI voices across different languages, accents, and tonalities for you to choose from to create AI-generated audio for your videos and presentations.
Furthermore, you can also add voiceover to Google Slides presentations using Murf's add-on for Google Slides. Murf provides the ability to make changes to your script, resulting in little to no re-work since all you have to do is edit the text and re-render the voiceover. Another standout feature of Murf is users can remove accidentally picked-up background noise from their recording and customize the voiceover to suit their requirements.
Pricing Plans

Free trial

Basic: $19/month, billed yearly*

Pro: $26/month, billed yearly*

Enterprise: $75/month, billed yearly*
*Check pricing page for the updated pricing information.
Beautiful.ai 
Beautiful.ai software offers a wide range of customizable templates and design elements that users can adapt to match their brand's identity while creating presentations. With its design capabilities, Beautiful.ai can automatically arrange and format content to ensure the presentation looks professional. The software also has a user-friendly and intuitive interface that allows adding and arranging text, pictures, and graphics. It is a collaborative AI technology that allows team members to work together on a single presentation, improving efficiency and productivity.
Pricing Plans
Pro: $12 /month billed annually

Team: $40 /user/month billed annually

Enterprise: Customized
Designs.ai 
Designs.ai is a user-friendly and free online presentation maker that leverages AI technology to help users design stunning presentations with ease. It offers an endless supply of presentation templates, making it easy for users to select a template that suits their needs. The platform provides users with never-ending graphic elements that can be easily added to presentations. It's a versatile platform suitable for various purposes, including group assignments, sales pitches, or business projects. The intuitive user interface makes it easy for users to create a presentation in no time, even without design skills.
Pricing Plans
Basic: $29/month

Pro: $69/month

Enterprise: Customized
Pitch 
Pitch is a powerful presentation software designed for modern teams that offers a range of features to create engaging and collaborative presentations. With the ability to host live meetings and edit together in real-time, team members can work together seamlessly to create stunning presentations. Pitch allows users to manage presentations like projects by assigning slides and setting status updates, making tracking progress easier. The software also provides version history management, allowing users to go back in time to see progress or recover previous versions. The software also offers team collaboration capabilities, allowing multiple people to work within the same design and access Pitch's icon library, to add beautifully designed icons to presentations.
Pricing Plans
Starter: Free 

Pro: $8/member/month

Enterprise: Customized
Slidebean
Slidebean is another tool that is perfect for those who want to create visually appealing pitch decks and business presentations. With Slidebean, users have the option to build their own presentations or take advantage of the company's presentation design services to create professional quality presentations quickly. One of the standout features of Slidebean is the "Arrange with AI" option, which provides users with multiple design alternatives to choose from. 
Pricing Plans
Basic: $0/year 

All Access: $228/year
Venngage 
Venngage is an online presentation maker that provides users with a versatile and user-friendly platform to create professional and engaging presentations. One of its notable features is its wide range of fully customizable pre-made templates and layouts created by expert in-house designers. Additionally, the platform allows exporting presentations to PowerPoint or PDF or presenting straight from Venngage's presentation software. For business users, Venngage also allows for brand personalization, including the ability to upload company logos, colors, and fonts. Venngage also provides access to its icon library to add beautifully designed icons to presentations and team collaboration capabilities that allow multiple people to work within the same design.
Pricing Plans
Free

Premium: $10/month/user billed yearly

Business: $24/month/user billed yearly

Enterprise: $499/month for 10+ seats billed yearly
Conclusion 
AI presentation tools have revolutionized the way we create and deliver presentations. With their advanced AI algorithms, machine learning capabilities, and deep learning technology, these tools have made creating visually appealing and interactive presentations easier than ever.
As technology evolves and new AI presentation tools emerge, individuals can expect to see even more advanced features and capabilities in the years ahead. AI presentation tools offer an array of benefits that can help various professionals achieve their goals and captivate their audiences. With AI technology, individuals can easily create stunning visuals, add personalized voiceovers, and receive real-time feedback to improve their presentations.
FAQs 
What are the benefits of using AI presentation tools?
AI presentation makers help users save time by automating the content creation and design process. They also provide customization enabling users to create interactive presentations that engage the viewers.
How do you use AI in a presentation?
AI can be used in a presentation in several ways. One way is to use AI-powered presentation software that can automate presentation creation and design, create outlines, get customizable themes, suggest pictures and layouts, get an endless supply of templates, and even help with speech writing and save so much time. Another idea is to use AI-powered virtual assistants or chatbots to provide interactive elements to the presentation, such as answering questions or providing interesting information. 
Is there AI for PowerPoint?
Yes, there are AI-powered tools available for PowerPoint that can help you automate content creation and design. These tools can analyze data and provide insights that can be used to provide suggestions and create more effective presentations. AI-powered PowerPoint examples include Beautiful.ai, Slidebean, and Murf AI.