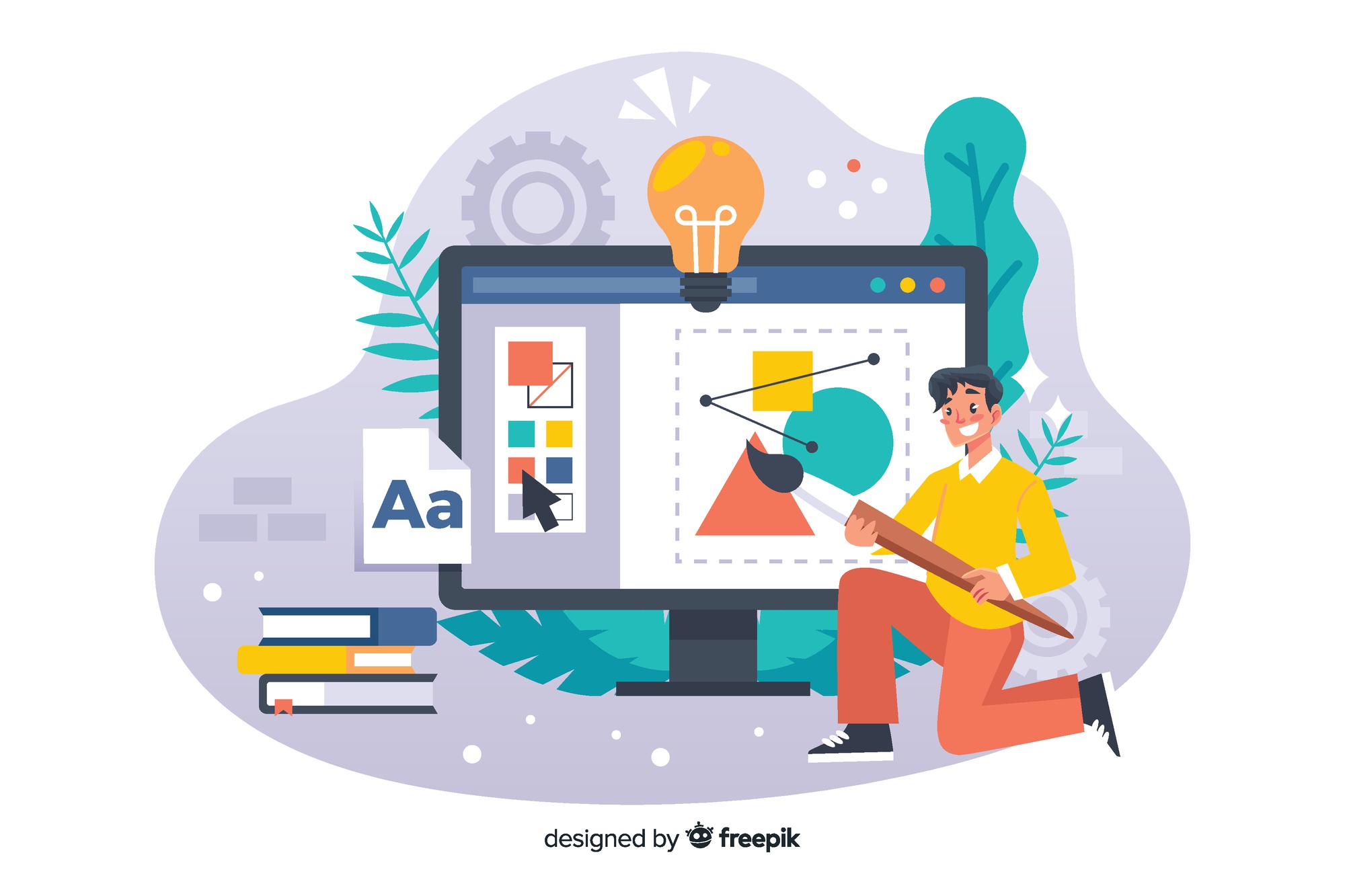 Gone are the days when graphic designers had to spend hours or even days brainstorming and sketching ideas for their clients. With the advent of AI-based graphic design tools, designers can now leverage machine learning algorithms to generate designs in minutes. These tools utilize advanced algorithms to analyze vast amounts of data, including consumer preferences and design trends, to create visually stunning and engaging designs. They can also optimize designs for specific platforms, such as social media or websites, to ensure maximum engagement and impact.
Benefits of Using AI Graphic Design Tools
AI design tools are transforming the way designers create, offering a host of benefits that can help improve the efficiency and quality of work. Here are different ways AI tools can assist graphic designers:
Design More Efficiently and Quickly
With advanced algorithms, an AI graphic design tool can analyze large amounts of data and generate designs in minutes. This allows designers to focus more on the conceptualization and ideation process, enabling them to create more innovative and impactful designs.
Personalized Designs
AI graphic design tools allow designers to personalize their designs to cater to individual requirements. With the help of AI tools, designers can analyze user data or input and create designs tailored to an individual's or business' tastes and preferences. This personalized approach can result in higher engagement and a stronger brand identity.
Cost-Effective
AI graphic design tools are cost-effective, making it more accessible for businesses and designers to create high-quality designs. With AI tools, designers can save big on hiring additional staff or outsourcing design work, making it a more economical solution.
Approach Design from a Data Perspective
With data analytics, designers can analyze consumer behavior, preferences, and design trends to create more effective and engaging designs. This data-driven approach with AI tools can help designers create designs that resonate with the audience and drive better results.
Enhanced Creative Capabilities
AI graphic design tools can enhance the creative capabilities of designers by providing a range of intuitive features, such as color palettes, font suggestions, and layout templates. These features can help designers create more professional-looking designs, even if they do not have extensive design knowledge or experience.
Top AI Tools for Graphic Designers 
By harnessing the capabilities of AI, designers can unlock new levels of efficiency, creativity, and precision in their design workflows. In this paragraph, we will explore some of the best AI tools that have garnered attention and acclaim within the design community:
1. Designs.ai
Designs.ai is an AI platform that offers a suite of tools for creating graphic designs, ads, banners, flyers, and more. It uses advanced algorithms to analyze user preferences and generate personalized design recommendations as well as provide suggestions for improvement.
Designs.ai's 'Designmaker' allows users to create custom designs in minutes. The platform offers a variety of design templates to choose from. Users can customize colors, fonts, and layouts to create a unique design. It can also be used to create thousands of variations of a design. Designmaker is cost-effective and easy to use and can auto-adjust texts and content to instantly resize the design for any social media or marketing channel.
Key Features
Access to a design library with 170M premium stock images and 10K graphics, shapes, frames, add stickers.

Export the final design in multiple dimensions.

Easy project collaboration—communicate and share projects with team members in real-time.
Pricing Plans
Basic: $29/month

Pro: $69/month

Enterprise: Custom
2. Adobe Sensei
Adobe Sensei is an AI software that helps you create stunning designs and creative assets. It offers designers creative tools, including Photoshop, Illustrator, and InDesign, among others. The platform uses AI and machine learning algorithms to automate repetitive tasks and improve workflow efficiency, as well as analyze user behavior and provide personalized recommendations.
Adobe Sensei's Photoshop tool uses AI to enhance images automatically. The platform can remove unwanted objects from a photo, adjust the lighting, and apply filters automatically. The Illustrator tool, on the other hand, can create custom vector graphics quickly and easily. Adobe Sensei's InDesign tool can automate layout design.
Key Features
Users can automatically match the lighting and perspective of background images using the tool's 'Match Image' feature.

'Intuitive Search' to find the right design assets.

Seamless integration with Adobe Creative Cloud.
Pricing Plans
Students and Teachers: $19.99/month

Individuals: $54.99/month

Businesses: $84.99/month/per license
3. Uizard
An AI-based design tool, Uizard offers a drag-and-drop interface to create custom designs quickly and easily. The AI design software uses machine learning algorithms to create stunning digital assets like website designs, web apps, mock-ups, mobile apps, and more in a no-code framework with a simple text prompt. Users can also upload screenshots of web designs and create new mockups based on their inspiration in a matter of seconds. Uizard's AI-assisted design platform allows users to create custom designs for websites, mobile apps, and presentations.
Key Features
Generate multi-screen mockups with simple text.

Scan your hand-drawn wireframes and convert them to digital designs.

Collaborate with your team members and stakeholders to bring your designs to life.

Import UI themes.

Offers the ability to generate attention heatmaps to predict the areas of a project where users focus their attention the most.
Pricing Plans
Basic: Free

Pro: $12/month, billed annually

Business: $39/month, billed annually
4. Artbreeder
Artbreeder uses generative adversarial networks (GANs) to generate new designs by combining existing ones. Users can combine art styles, techniques, and elements to generate new designs on the platform. By bringing together creativity and collaboration, Artbreeder helps creators come up with unique designs. Artbreeder can be used to create custom designs for images, 3D models, and music.
Key Features
Remixing images by describing a prompt.

Combine multiple images and edit them to create new images.

Offers collaboration opportunities among creators to share their works with others.
Pricing Plans
Basic: Free

Starter: $8.99/month

Advanced: $18.99/month

Champion: $38.99/month
5. Khroma
Khroma is an AI color tool that generates personalized color palettes based on user preferences. The software uses AI to analyze your preferred colors and suggest new colors that match your design style. The platform also allows you to save and share your favorite color palettes.
Key Features
Infinite color combos

Intuitive AI-powered search to filter options based on hue, tint, and other color metrics.
Pricing
Khroma is free to use.
6. AutoDraw
AutoDraw is a drawing tool from Google Creative Lab that suggests icons/designs based on your doodles. The platform uses machine learning algorithms to analyze your doodles and suggest icons that match your drawing. On AutoDraw, users can edit and resize the icons to fit their designs. The platform is ideal for designers who need to create design icons quickly.
Key Features
Simple and easy-to-use interface.

View color combos as typography, gradient, palette, or custom image.

Create an unlimited library of favorite combos to reference later.
Pricing
Free to use.
7. Vance AI
Vance AI is an all-in-one image editing platform that leverages AI technology to enhance and transform images. It offers a range of features, including image restoration, background removal, image colorization, and upscaling.
Key Features
Offers a wide range of image editing AI tools such as image enlarger, denoiser, sharper and more.

Can be used to create images for websites, blogs, banners, or products.
Pricing
Trial: Free

100 credits: Start at $4.95 ($0.049/credit)

200 credits: Start at $6.95 ($0.035/credit)

500 credits: Start at $11.45 ($0.023/credit)

1000 credits: Start at $17.95 ($0.018/credit)
8. Let's Enhance
Let's Enhance is an AI design tool to improve the quality of images. It offers a range of features, including upscaling and color correction. It is an excellent tool for graphic designers looking to enhance low-quality images or improve the resolution of images without compromising on quality.
Its key features include its intuitive user interface, advanced AI algorithms for image enhancement, and batch processing for editing multiple images simultaneously. It also has a text-to-image generator which can be used to generate stunning visual art quickly.
Key Features
Image upscale

Pixelation and blur fixing

Correct color and lighting

Removes JPEG artifacts
Pricing
Trial: Free with 10 credits on sign up

Subscription-based plan: From $9/month to $24/month, billed annually

Business plan: $72/month to $290/month, billed monthly

Pay-as-you-go plan: $9-$39, one-time payment

 
9. Remove.bg
An AI-powered tool, Remove.bg helps remove backgrounds from images. It uses advanced algorithms to detect the subject in an image and remove the background automatically.
Key Features
Image download with transparent background

Background replacement

Supports various image formats

User-friendly interface 
Pricing
Trial: Free

Subscription Plan: Start at Rs 599 to Rs 26,900/month

Pay as you go Plan: Start at Rs 129 to Rs 13,500
10. Fontjoy
Fontjoy is an AI tool that helps graphic designers choose the best font combinations. It utilizes machine learning algorithms to analyze and match different fonts based on their characteristics and styles, resulting in more aesthetically pleasing and visually balanced designs. Its key features include its vast library of fonts and typefaces, its ability to suggest font pairings based on user preferences, and its intuitive user interface.
Key Features
A vast library of fonts and typefaces

Ability to adjust font size, spacing, and weight adjustment based on user preferences.
Pricing
Free to use
Summing Up
With the help of AI graphic design tools, designers can take their creativity to the next level and stay ahead of the curve in an ever-evolving design industry. As AI technology advances, we can expect even more innovative tools to emerge, pushing the boundaries of what's possible in graphic design.
FAQs 
Can I use AI to create a logo?
Yes, you can use artificial intelligence to create a logo based on your preferences. These tools can analyze your inputs, such as brand name, industry, and preferred style, to create a unique logo design in minutes.
Is there an AI for graphic design?
Several AI-powered graphic design tools are available to help you quickly and efficiently create logos and other high-quality designs quickly and efficiently. These AI tools analyze your preferences and suggest design elements such as color palettes, typography, and layout.
How can AI be used for UX design?
AI can be used in several ways to improve UX design. It can be used to analyze user data and behavior, automate UX design tasks and enhance accessibility in UX design.