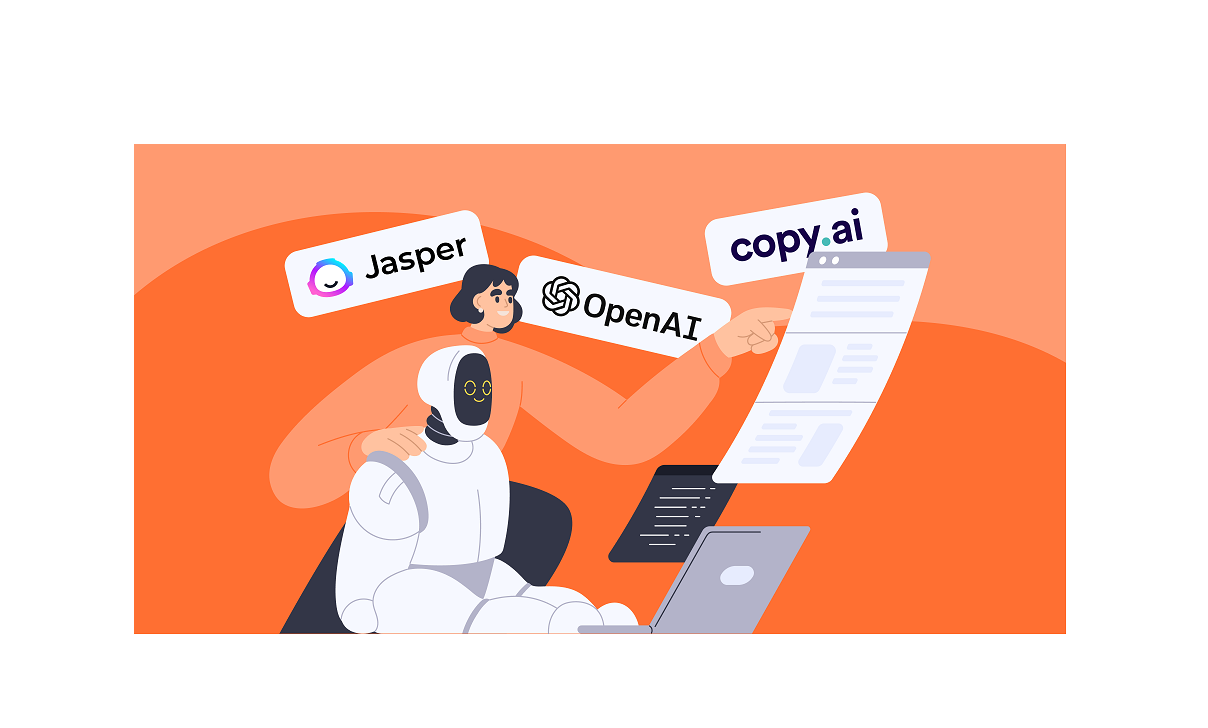 AI content generators are revolutionizing the content creation process by enabling creators and businesses to generate high-quality content quickly and efficiently. Today, AI content generators have become essential tools for various industries, including large eLearning companies, media businesses, and video/film agencies that demand and create content in high volumes. By using content generation tools, teams can focus on higher-value tasks, such as strategy and ideation, while AI handles the more mundane and repetitive tasks. In this blog, we will explore the top 10 AI content generators that are changing the game for content creation.
What is an AI Content Generator?
AI content generators are software that assist creators in producing new content or recreating existing content by using machine learning algorithms like natural language processing (NLP). These tools analyze data and identify patterns, which are then used to generate new content. AI content generators come with keyword tools that discover and recommend content based on specific search queries. The generated content can range from new topics, headlines, and outlines, to even writing the entire content for social media posts, blog post articles, product descriptions, and more.
After conducting extensive research and analyzing various metrics such as key features, USPs, cost, pros, and cons, we have compiled a list of the top 10 AI content generators. These AI content generators offer a high level of realism and can save a considerable amount of time and money that goes into content creation.
Top 10 AI Content Generators of 2023
ChatGPT
ChatGPT is a state-of-the-art language model created by OpenAI that offers an array of AI-powered solutions to enhance various aspects of life. ChatGPT can respond to user input in natural language, making it a highly intuitive tool for content creation. One of its key benefits is the ability to generate extremely relevant and engaging content tailored to specific audiences. ChatGPT offers comprehensive language support, making it an ideal tool for individuals and organizations operating in diverse global settings. Its accuracy, speed, and versatility make it an indispensable resource for anyone looking to improve their writing, research, or communication skills.
Jasper AI
Jasper AI is a top-rated AI writer that can handle any content-related task, from marketing copy to long-form blog posts. With over 50 copywriting templates and Jasper Chat—a chatbot that enables users to communicate with the AI—it's easy to get the help writers and creators need. Jasper AI generates plagiarism-free content in over 25 languages, includes Grammarly, and reads past characters for better context. The platform offers excellent long-form content creation tools, Surfer SEO integration, and 99% unique, plagiarism-free content. Jasper AI is ideal for bloggers and content marketers who want to create a lot of content but lack the time or resources to do so.
Copysmith
Copysmith is an AI-powered content generation tool that creates high-quality content for websites, ads, and product descriptions. With over 30 templates to choose from, it can quickly put together high-quality content. Its AI article writing assistant template is perfect for generating long-form content. Once you select a title and outline, the AI writer generates a unique article for you, which can be edited. Copysmith allows you to highlight sections for expansion or rewriting. Its preference-based suggestion feature ensures that future-generated content aligns with your preferences.
Writesonic
Writesonic, an AI content generator, allows you to quickly create high-quality content such as blog posts, product descriptions, and ads. It uses GPT 3.5 technology to generate unique and natural-sounding content with various customization options, including tone and style adjustments. Writesonic's SEO optimization feature ensures that the generated content is search-engine friendly. It also hosts Chatsonic, an easy messaging tool to communicate with the AI about your content needs, and Photosonic, which allows users to generate high-quality images for their content. Writesonic is budget-friendly, has excellent customer service, and offers a free trial with a generous word limit.
Peppertype AI
Peppertype is an AI tool for content writing that leverages artificial intelligence and the expertise of professional writers to help users create premium content in less time. With Peppertype, users can access a wide range of content templates and generate quality copy for various needs, such as blogs, social media, and product descriptions, in seconds. Peppertype has a user-friendly interface and offers a clean and intuitive user experience. Another advantage of using Peppertype is that it provides access to a content marketplace that allows businesses and individuals to outsource a wide range of high-quality content from a community of vetted writers.
Copy.ai
Copy.ai is a powerful AI article writer with over 90 templates and supports more than 25 languages. To generate high-quality, plagiarism-free content instantly, it makes use of the world's most advanced AI language model, the GPT-3 technology. It features 90+ AI tools, including a bio generator, blog title generator, and SEO-friendly blog post title generator. Its easy-to-use editor can help overcome writer's block and simplify the writing process. With no limit to the number of times you can generate text, Copy.ai provides a head start in AI content generation with 100 free content creations for the first month.
Rytr
Rytr is a free content generator AI tool supporting more than 29 languages to easily and quickly generate content in different languages. Rytr further offers content spinning, plagiarism, and grammar-checking features. It enables users to create over 20 different types of content, including blog posts, product descriptions, and social media captions. Users can input their desired tone, audience, and topic to generate customized content. The entire interface can fit in a single browser window, which helps you stay focused while writing. Additionally, Rytr's subscription plans are affordable, making them accessible to businesses of all sizes.
Simplified
Simplified is a powerful AI-powered design platform that also supports an AI copywriting tool, which offers over 40 types of copy to generate compelling content for ads, sales copy, company bios, blogs, and more. With its free plan, users can write new copy from scratch, rewrite existing texts, or improve content. It also has a chrome extension, offers copywriting templates, and multi-language support. Simplified is free, requires no credit card, and offers marketing tools such as a video editor, content management tools like calendars, and graphic design tools. Simplified is the ideal all-in-one solution for your content needs.
Frase IO
Frase IO is a versatile and free AI article generator tool that offers over 13 templates to help users create optimized content for SEO. With tools for keyword research, content optimization, and LSI keywords, Frase IO can improve your existing content. It's an excellent alternative to OpenAI's GPT-3 for generating human-like text. Frase IO's templates include People Also Ask, a google search feature that provides a list of related questions based on the primary search query. Individual creators and businesses alike can benefit from Frase IO's complete document editor and effortlessly produce high-quality content for landing pages and blog posts with ease.
Unbounce
Smart Copy by Unbounce is an AI writing tool with over 30 templates for ad copy, eCommerce, website copy, blogs, and emails. It simplifies the writing process and also provides SEO analysis, support for multiple languages, and access via a website application, Google Chrome extension, and a desktop app. The paid plan offers unlimited AI-generated content, while the free plan provides five daily content generations. It's a cost-effective solution for businesses seeking professional-level copy on a budget.
Zyro.com
Zyro.com offers a free AI-powered content generator that simplifies the writing process for everyone. It offers a variety of templates, including blog posts, social media posts, and product descriptions. The tool also offers SEO analysis to help users optimize their content for search engines. The writing tool is user-friendly and accessible to those without a background in writing. With Zyro.com, you can create professional-level copy that engages your audience and drives traffic to your website.
How to Get the Best Out of an AI Content Generator?
To get the best out of an AI content generator, there are three essential steps: writing an input, choosing the best output, and proofreading search results.
When writing input for an AI content generator, it's essential to give a detailed prompt about what you need. Be specific about the tone, style, and format of the content you want. This will help the AI understand what you're looking for and generate the most relevant output.

Choosing the best output that matches your description is crucial. AI content generators offer a variety of outputs to choose from, including articles, social media posts, emails, and more. Take your time to review the generated results and choose the one that best matches your prompt.

Even though AI-generated content is generally high-quality, it is crucial to proofread it before publishing. Make sure the content is error-free and grammatically correct. If necessary, make changes to improve the readability or flow of the content.

While AI can help you save time and effort, it's always essential to review the content and make any necessary changes to ensure its quality and factuality.
The Benefits of AI Content Generators
From generating new ideas to optimizing text for better SEO and saving time, an AI content generator can be a powerful tool in your content creation arsenal. Here are some of the benefits of using AI content and article generator tools to revolutionize your content strategy:
Helps Develop New Ideas
One of the biggest benefits of using AI content generators is that they can help you develop new and fresh ideas for your content. These generators use complex algorithms to analyze a vast amount of data and come up with unique ideas that you may not have considered before.
Better Text Optimization
Another advantage of using AI content generators is that they can help you optimize your text for better SEO scores. These generators can identify the right keywords to use to create blog posts and suggest the best structure for your content, ensuring that it is optimized for search engines and more likely to be found by your target audience.
Saves Time and Effort for Content Writers
Creating high-quality content takes time and effort, which is why using an AI content generator can be a game-changer for content creators. These generators can produce high-quality content in a fraction of the time it would take a human brain, allowing writers to focus on other tasks.
Helpful in Generating Content Ideas for Different Channels
An AI content generator can also be useful in generating channel-specific creative ideas. Whether you need content for your website, social media, or email marketing, it can help you come up with ideas that are tailored to each channel's requirements.
Scalability Without Hiring New Talent
AI content generators offer scalability without the need to hire new talent. As your business grows and your content needs increase, you can rely on AI tools to produce more content without needing to hire additional staff.
Drawbacks of AI Content Generators
While AI content generators have many benefits, there are some drawbacks that users must be aware of before incorporating them into their workflow.
Plagiarism-Related Concerns
One of the primary concerns with AI content generators is plagiarism. While these tools can produce original content, there is always a risk of the generated content being too similar to existing content on the web. This can result in legal and ethical issues that can damage the reputation of the parties involved.
Inaccurate Translations
Another issue with AI-generated content is the inaccuracy of translations. These tools may not always produce accurate translations, leading to meaning loss and incoherence. This can be a significant problem for businesses that rely on content localization for their global marketing efforts.
Algorithms can Devalue the Content
AI algorithms can sometimes devalue the content by producing shallow, repetitive, or irrelevant content. These tools may not be able to produce the depth of understanding and creativity that human writers possess. This can result in a loss of the human touch, which can impact the overall quality of the content.
Lack of Creativity/Repetitive Ideas
AI-generated content can be repetitive, lacking creativity and fresh ideas. These tools can become formulaic and produce content that is too similar to what has been produced before. This can be a significant issue for businesses that need to maintain the freshness and uniqueness of their content to attract and retain audiences.
Final Thoughts
AI content generators can develop a large amount of content in a short time and at a fraction of the cost of human writers. However, it's important to acknowledge that AI-generated content is not perfect and may contain errors, plagiarism, and lack the creativity that only human writers can provide.
As such, they should be used as a complementary tool to enhance the content creation process, rather than a complete replacement for human writers. It's crucial to have a human editor to fact-check and edit the content before publishing. This will ensure the accuracy, clarity, and quality of the content, which is critical for building brand reputation and trust with the audience.
AI content generators can also aid in the brainstorming process by providing ideas and inspiration for human writers. When used in combination with human creativity, AI content generators can lead to better quality content that is more engaging and informative for the target audience.
FAQs
Which AI tool is best for content writing?
The best AI tool for content writing depends on users' specific needs. Some popular options are GPT-3, Copysmith, and Writesonic. Each has its own strengths and weaknesses, so it's important to do your research and choose the tool that aligns with your content goals.
Which is the best AI text generator for bloggers?
Many bloggers find that GPT-3 is the best AI text generator for their needs. It's a powerful tool that can generate high-quality content quickly and efficiently. However, it's important to keep in mind that AI-generated content should still be reviewed and edited by a human to ensure accuracy and readability.
What are the problems with AI-generated content?
While AI-generated content has many benefits, there are some potential problems to be aware of. These include concerns about plagiarism, translations that don't make sense, algorithms that devalue the content, and a lack of creativity or repetitive ideas. It's important to use AI tools wisely by still relying on human expertise for fact-checking and editing.