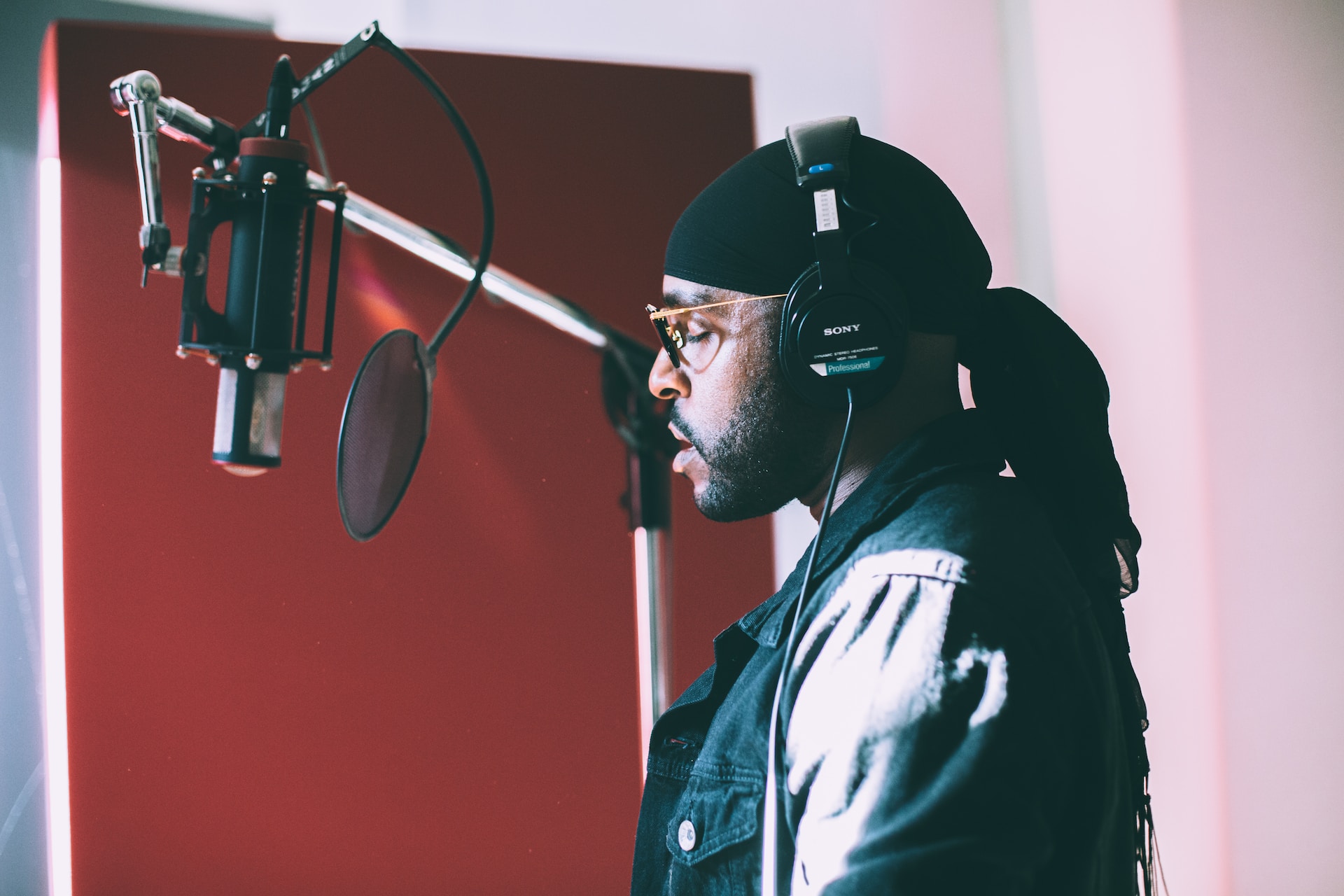 Are you an aspiring rapper? Do you dream of creating your own rap music but don't have the vocal skills to do so? Or maybe you're a record producer who wants to create the next hit rap song but can't afford to hire your favorite artist. If so, let me introduce you to AI rapper voice generators.
A rapper AI voice generator is a text to speech tool that can generate rapper AI voices in just a few clicks. From Kanye West to Jay Z, these tools can emulate famous hip-hop celebrity voices or even create one from scratch in a unique vocal style.
What's more? Using the power of artificial intelligence, you can even generate rap lyrics from scratch in a matter of seconds and use them in tandem with an AI rapper voice generator to create your own unique rap tracks.
This blog will walk you through the top five rapper voice generators available today. So read on if you want to start making your own rap songs today.

Top Five AI Rappers Voice Generator of 2023
If you are looking for a tool that synthesizes celebrity voices instantly, this top-five list is for you.
Uberduck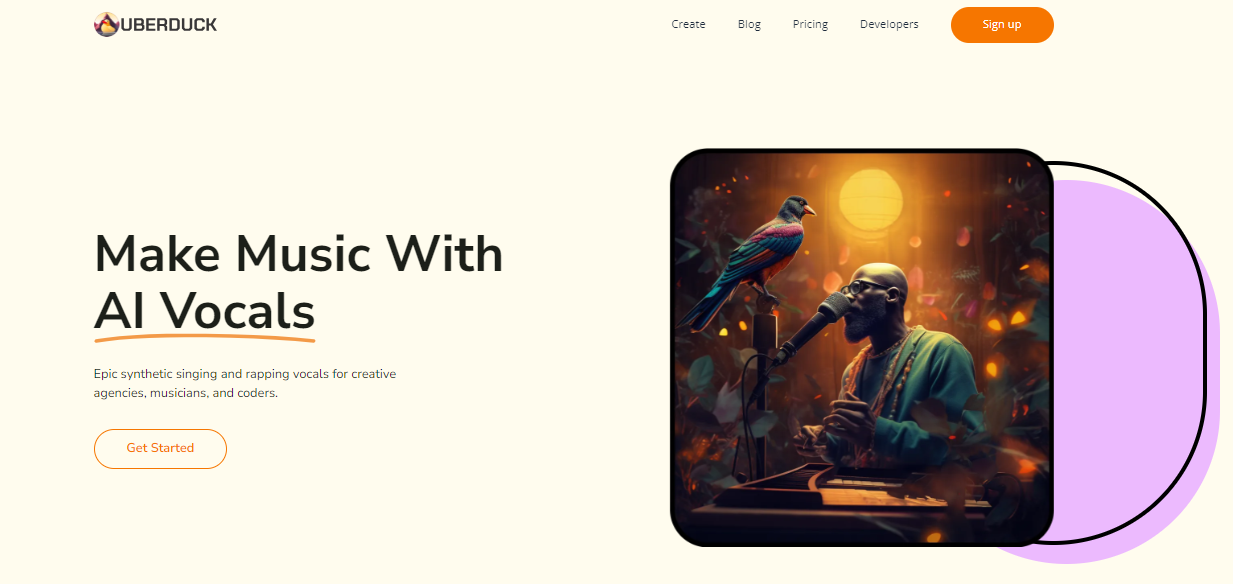 Uberduck is the ultimate AI rapper generator and is a must-try for any music enthusiast. With this text to speech tool, you can create music in four simple steps:
Choose from a library of audio beats.

Use Ubderduck's advanced AI text generator to create lyrics for your rap song from scratch.

Choose from an extensive voice library that includes popular rapper voices like American rapper Jay-Z.

You can even use voice cloning to create your own unique rapper's voice.
Once you are done, click play, sit back, and enjoy your perfect rap song.
TypeCast AI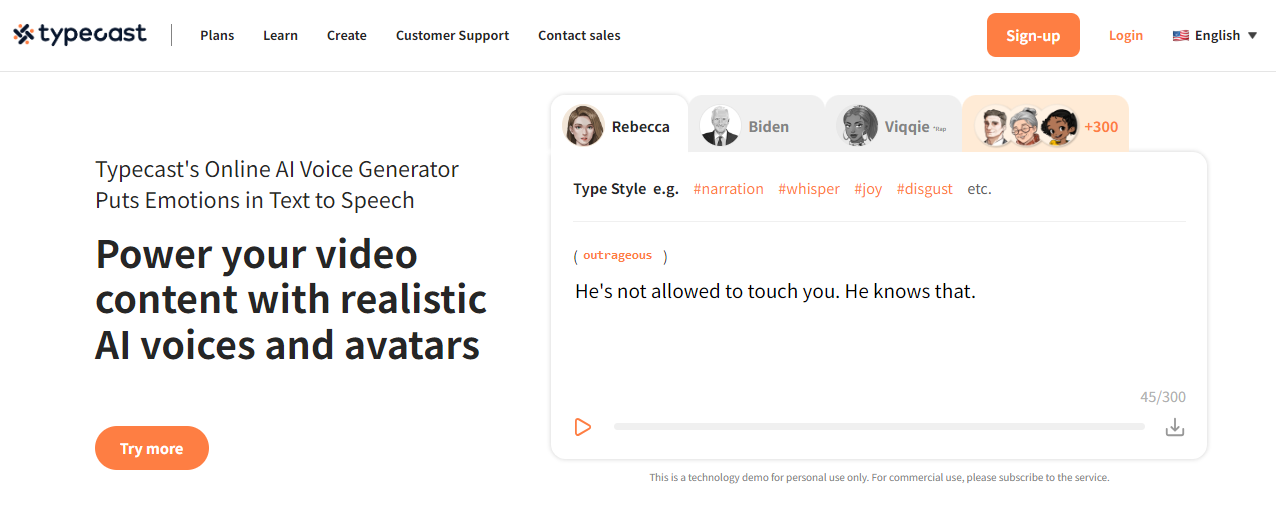 TypeCast AI is a TTS software that aspiring rappers can use to create content. One of its key features is the ability to add emotions and adjust the pitch and speed to mimic the natural sound of a person's voice.
While a free plan is available to try this tool, you don't get access to popular rappers with it. That said, with all the voice effects you can modify with this tool, you can easily mimic the voices of your favorite rappers.
FakeYou
FakeYou is another popular voice generator that uses artificial intelligence and deep fake technology to create different voices. One of the key features of this AI voice generator is that it has an extensive voice library of over 2900 voices, most of which you can access for free.
That said, you do need to purchase one of their subscription plans to access the more advanced voice cloning and text to speech features. If you are just starting your music production journey, FakeYou's voice generation features are a good place to start.
VoxBox

VoxBox is the ultimate AI rapper voice generator for music enthusiasts of all levels. With VoxBox, you can create rap songs with realistic and expressive vocals in just a few simple steps.
First, choose from an extensive library of rapper voices, including famous rappers like Snoop Dogg and Jay-Z.

Type in your lyrics, and VoxBox will generate your rap vocals. You can also use voice cloning to create your unique rapper voice.

Once you're happy with your rap vocals, you can export the audio files as an MP3 or WAV file.

You can then use your rap vocals in your music production or share them with your friends and followers.
However, unlike the other tools on this list, it is not a web app, and you need to download the software to use it.
TopMediai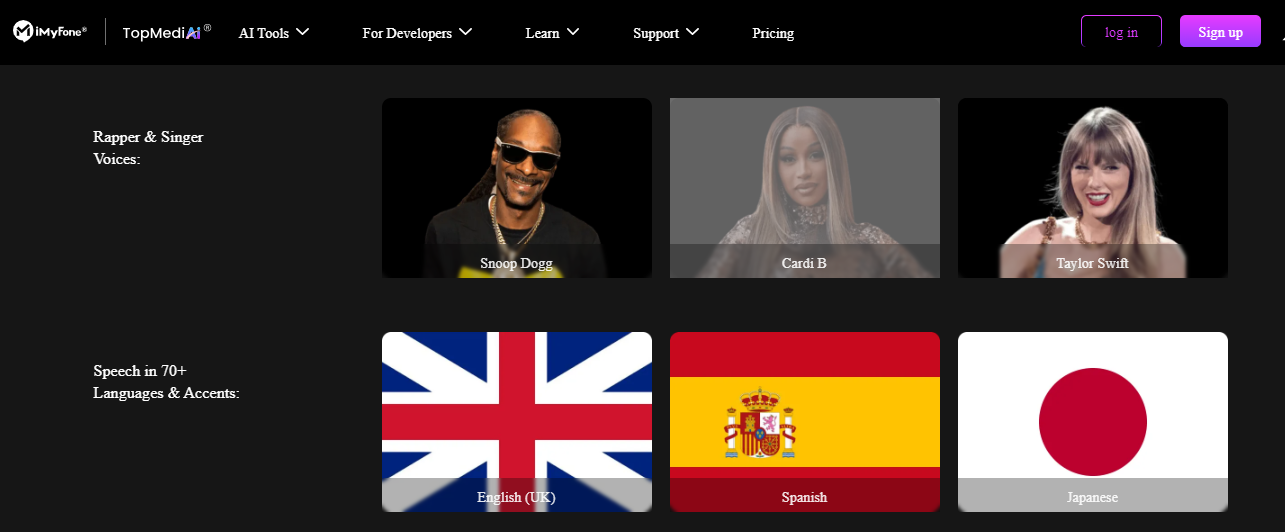 TopMediai is a rapper voice generator that uses speech synthesis technology to help you create rap music that slaps. You're in luck if your favorite rapper is Snoop Dogg or Drake. This tool can help you make the perfect song in their unique voice. If your favorite artists are not included in the list, it doesn't matter!
One of this rapper text to speech tool's key features is its voice generation using voice cloning technology. It allows you to use your own voice to mimic the voice of your favorite artist.
A Natural-Sounding Text to Speech Software for Everything Else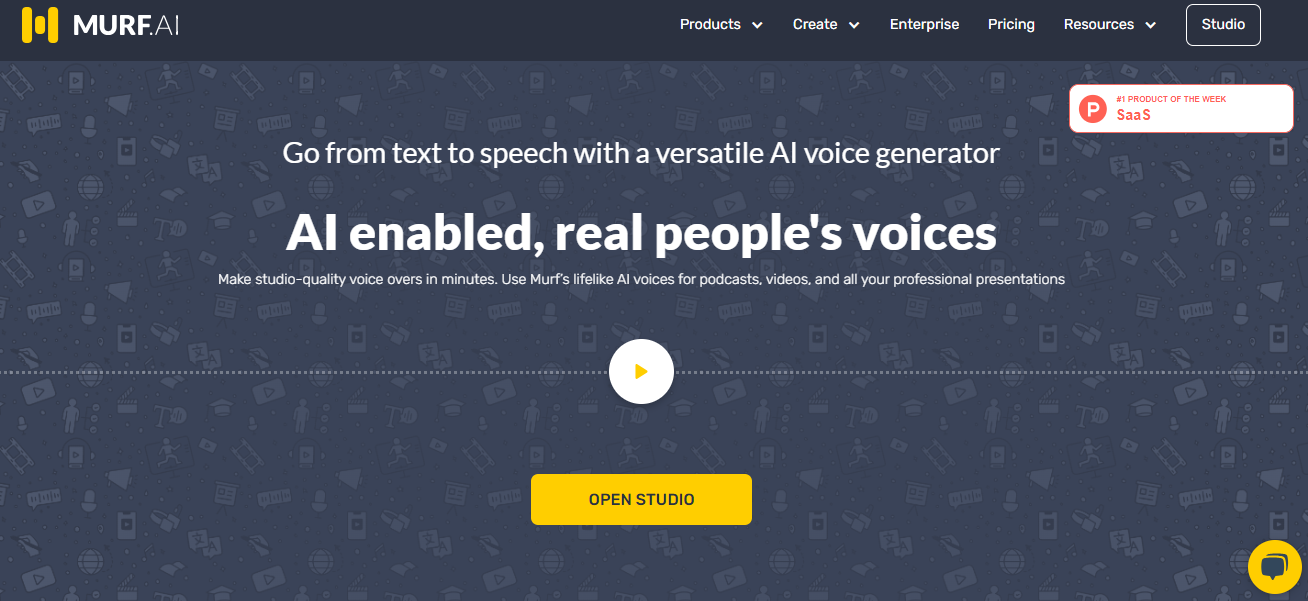 If you are looking for a tool that is more than a text to rap voice generator, then Murf AI is your solution. When it comes to applications that require a studio-quality voice, most generic TTS don't cut the mustard. Murf AI can create realistic human-like voiceovers in just a few clicks.
Here are some of the key features of Murf:
Voice Cloning
Murf's voice cloning feature allows you to create a synthetic copy of your own voice. It also offers the ability to convey emotions in a much more human-like voice. This can be useful for several purposes, including developing voiceovers for videos and presentations or generating audiobooks.
What's more? The team at Murf can clone a voice with only 1-2 hour sample recordings. You only need to record a sample of your voice, and Murf will create a synthetic copy. You can customize the voice to your liking, such as adjusting the pitch, speed, and timbre.
Voice Over Video
If you create videos, then this feature is for you. Murf's voice over video feature allows you to add voiceovers to your videos with ease. Simply upload your video to Murf and type in your script. Murf AI will then generate a voiceover for your video that you can sync up with the footage.
The highlight of this feature is that you can create an audio file of your voice-over in over 120 unique voices in 20 plus languages. Hiring a voice actor is now a thing of the past.
Text to Speech
Murf's text to speech feature allows you to create realistic voiceovers in a few simple steps:
Enter your text.

Choose an ultra-realistic voice from a vast collection of voices in the language and accent of your choice.

Click play!
Murf's text to speech voice generator will have your audio file ready in minutes.
"Rapping" Up 
AI rapper voice generators are a new and exciting technology with the potential to revolutionize the music industry. They are perfect tools for amateur hip-hop fans looking to experiment with their creativity or a music producer who wants to transform their bars using the voice of their favorite rappers.
The five tools covered in the blog will help you create rap songs with realistic and expressive vocals, even if you don't have any singing or rapping experience. However, if you are looking for something more than a rapper's voice generator and want to create an AI voice that is realistic and human-like, Murf AI is the best option.
From crafting clever verses to nailing those smooth vocal deliveries, AI voice generators open up a world of creative possibilities. So, whether you're spitting bars or letting an AI take over the verse, let your creative genius flow!

FAQs
How can I make my voice sound like a rapper?
Consider using an AI-driven rapper voice generator to infuse your voice with that unmistakable rapper flair. This software offers voice cloning capabilities that allow you to replicate your favorite rapper's voice.
 With a little text and some adjustments to pitch and speed, you can transform your voice into any hip-hop rapper's style. These innovative rapper text to speech generators let you unleash your inner rap sensation, regardless of your vocal abilities.
How do I generate AI rapper voices?
You can use any of the five rapper voice generator tools mentioned above to generate a rapper's voice. These text to speech tools harness the power of artificial intelligence to mimic the voices of famous rappers or create entirely new ones.
Simply input your lyrics, select a voice, and let the AI work magic. In a matter of clicks, you'll have lifelike rap vocals that can elevate your music to a new level of creativity and expression.
How do you turn text into rap?
Converting text into rap has never been easier, thanks to AI-driven technology. Start by selecting a text to rap voice generator. Then, craft your rap lyrics within the software or import your own.
These tools use advanced algorithms to transform written words into rhythmic, rap-style vocals. Experiment with different voices and emotions to create a unique rap track that reflects your artistic vision.