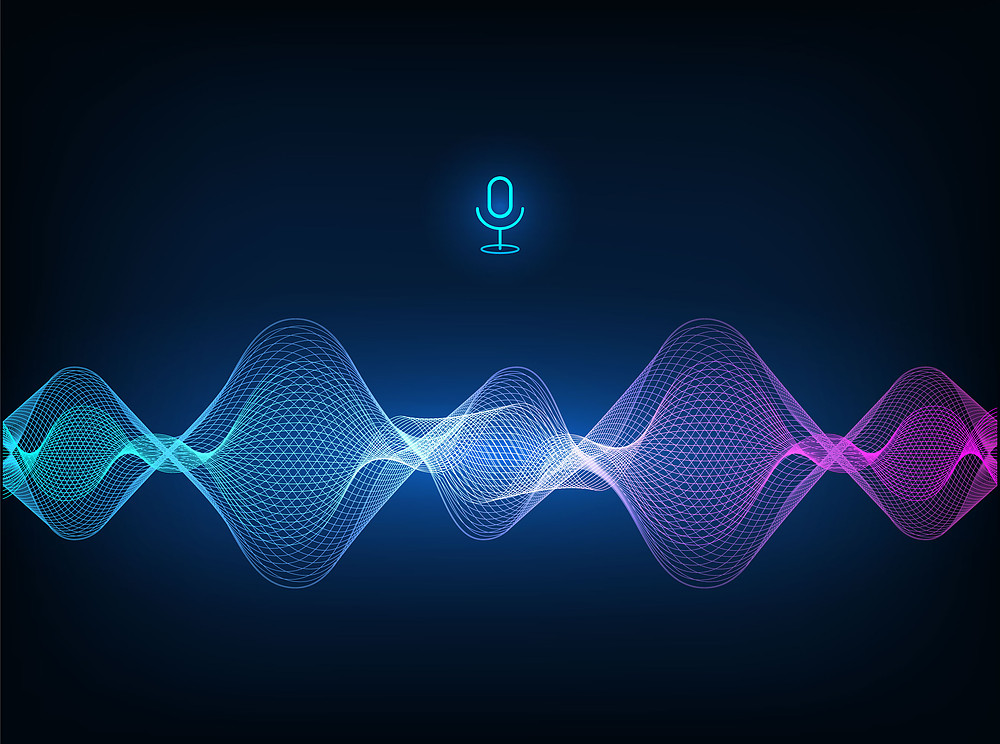 Write - Edit - Broadcast | The future of voice overs is here
Deep learning systems have transformed our lives by leaps and bounds. From social media filters to voice searches, we are constantly engaging with Artificial Intelligence. One such transformation that Murf brings to you is AI powered voice overs, which you can create and edit in minutes. This might raise a few questions in your mind, and we are here to answer them! 
What is an AI Voice?
We have been using voice overs for a century now, and as with everything else, the way we create them has also evolved. Introduction to AI voices is a step towards a new way of using voice to assist in our creative and professional needs. 
AI voice is not a completely synthetic voice but a synthetic process of transforming text to human voice. The voices are drawn from original human voices, and AI is used to read and transform your text into speech. Since it is built on human voices, through developments in machine learning, AI voice generators have advanced from robotic intonations to speech that is closer to human-speak than ever before.
But at times, just translating text to speech with robust voices isn't enough. To develop closer to realistic voices, there are many other factors that affect the delivery of the speech. Pauses, rise and fall of pitch, stress and play of emphasis translate the emotion and tone in our conversations. These have become an essential part of our speech and hence any use of AI voice generators should be able to provide such functionalities. 
Murf Studio's extensive library makes it possible to find the right accent, which is the first step towards finding the right tonality. But as we understand the various aspects of human speech, the Studio includes emphasis charts, pitch and speed adjusters, and pause manipulation settings so that one can add nuance to your voiceovers.  
Does an AI voice sound realistic?
We hear this question quite often and no amount of explanations can do what an actual demonstration can. So hear these two recordings for yourself, one of an actual human voice, and a text to speech voiceover.
Are AI voices here to stay?
The traditional form of audio production is a long and complex process. It takes time and effort to find the right artist, provide accurate voice directions, hire a studio to record - which can be expensive, and then the editing and sound mixing before you achieve a finished product. Any changes can cost a good sum and this makes it difficult for creators and enterprises who have to create content regularly. 
For big-budget productions, such a process would seem feasible and desirable but such a significant monetary overlay creates accessibility issues for others. AI voice generators have been attempting to tackle this issue to make voiceover production not just accessible but practically achievable. As text to speech voice over reduces cost, time and the need for software literacy substantially, with simple mechanisms such as text editors, AI has widened the scope of content creation and participation from creators. 
Advancement in visual content creation has to be accompanied by ease of audio creation, and AI voice overs is the solution to bridge this gap. So going back to the earlier question, yes, AI voices are here not just to stay but are building a new pathway towards accessible audio production. And web-based voice makers like Murf, are a step in that direction.     
Make Voice overs effortlessly in Murf Studio
The Murf Studio is a high-quality web-based platform that allows you to create AI voice overs that are realistic human-sounding voices. You can also use the in-built text to speech converter to build your videos, and presentations end to end without ever recording voices. This can save you time, money and energy while delivering a project matching your vision.
Murf Studio's AI voices can help you create high-quality voice overs, and also enables you to match the voice with the visuals, provide emphasis on particular content, and play around with the speed and pauses. You can pick from Murf Studio's library of 110+ voices or you can create and edit voice overs using your own voice. Either way, Murf Studio is built to deliver.
If you are new to Murf and would like to make your first voice over, check out https://murf.ai/resources/how-to-make-a-voiceover-w71sqfn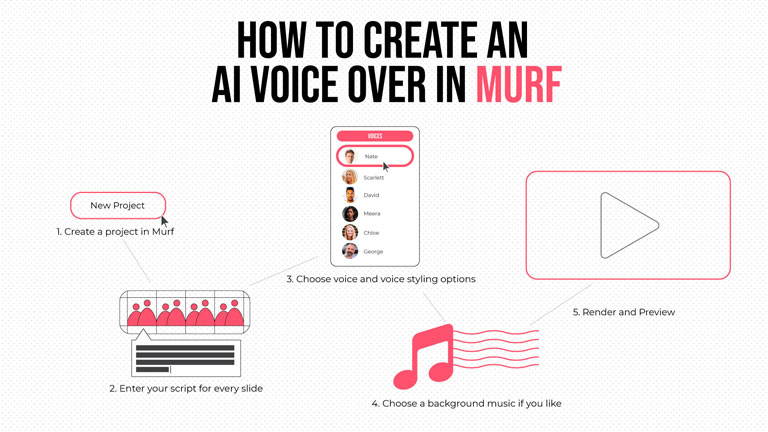 Murf studio is a solution to the biggest pain point for voice overs post-processing - EDITING THE PROCESSED VOICEOVER.
One of the biggest pain points in the voiceover industry is to make changes to a recorded, post-processed voiceover. The choice is usually between re-recording and investing further time and money in the same project or forgoing the changes and making do with what is already recorded and available. Murf Studio deploys the confluence of AI technology, machine learning applications and voice cloning to help you resolve this practical difficulty. It is now possible to edit any of your voiceovers within minutes. At the back end, the Studio recognises the patterns, pitch and depth of voice and can recreate or clone it instantly, enabling you to edit your processed voiceover with all the changes you need.
Is Murf for me?
There is so much you can do on Murf Studio that cannot be explained here. So we provide 10 minutes of free Voice generation time to all our registered users. 
If you are looking to create any of the following, then open Murf Studio now!
Explainer videos
The creators of any product know the effort required to explain their product and detail the instructions. As we move from usual manuals to video demonstrations, we are able to distil the most interesting parts of our products and create visuals that would remain with our audience for a long time. With Murf, this process can be made drastically easier through explainer videos (short or long format). Content-rich videos using a blend of visuals and voice overs can help condense a lot of information and keep your customers interested!
To learn interesting ways to create voiceover videos for your products, check out this article -https://murf.ai/resources/ai-voice-generator-for-product-demo-lppf1gg
App / Website Demos
Much like voice over videos, Apps and website demos are becoming famous as people are finding innovative ways to walk their customers through their platforms or apps. These demos can convert visitors to your websites into users if you make quality demos that clearly to your prospective customers. And like explainer videos, you can also use Murf Studio to build voice overs that you can simply sync with a screen recording of your website/app. As and when your app/website advances or changes, you can access the same project in Murf Studio and make changes in the voice over and add new visuals to it. This quick access, easy-to-use text editor, and a single interface studio will make your frequent content creation process easy and fun. 
Animation / E-learning
In a rapidly growing digital world, e-learning has become a means of sending information to a wider audience through engaging videos. The cost of creating animations or e-learning videos can be expensive and ROI can be comparatively low. This means that you have to keep your cost of production as low as possible without compromising the quality of your content. This is where Murf Studio's interface allows you to use multiple voices, accents, and languages within a single narration, helping you stay within your budget and yet build amazing voiceover videos. If you would like to know more about how you can use the studio to make your videos, check out https://murf.ai/resources/elearning-voice-over-tutorial-knrdiya 
Presentations
Adding narration to your presentations can ensure consistency and clarity. Especially when presenting online, your audience can understand your thoughts if they are not distracted by varying tones of delivery. From creating a voice over video to presentation compiled from multiple sources to combining video and audio recorded separately or together, Murf Studio's multimedia interface will help you add and time your slides and sync them with the narration in minutes. For a detailed walk-through of the process of adding voice overs to your presentations and slides, check out https://murf.ai/resources/how-to-do-a-voiceover-on-powerpoint-9JUoaQo
How to choose voices in Murf
You can choose from an already available voice library of 110+ voices or you can use the studio to create and edit voice overs using your own voice. To know more, go to https://murf.ai/resources/how-to-choose-voice-for-video-wo8utqm
So, here's why AI voice overs can be the perfect audio addition to your latest project, and why Murf is what you are looking for :
Murf is a voice over maker which allows you to use a text-based script or a regular recording from a phone or a laptop. No recording equipment needed!

It uses a robust text to speech converter to create realistic AI voiceovers

Murf Studio houses a diverse library of 110+ AI voices to select from

Editing the voiceovers is as simple as editing text in a word document. Then build the audio, and the changes will be reflected immediately. No re-recording necessary

No post-processing needed = Zero wait time
The Murf Studio is comprehensively designed to build projects from scratch to end. This web-based voice over maker offers a variety of features that will help you customise your voice overs. You can further fine-tune through features such as trimming or adjusting the audio to music ratio. Finally, the block format that the Studio employs helps effortless combine-and-renders, so your final product will be ready to launch in no time.
Try out the studio now and be a party to the change and ease in the world of voice overs! 
Start creating your project here: https://murf.ai/studio