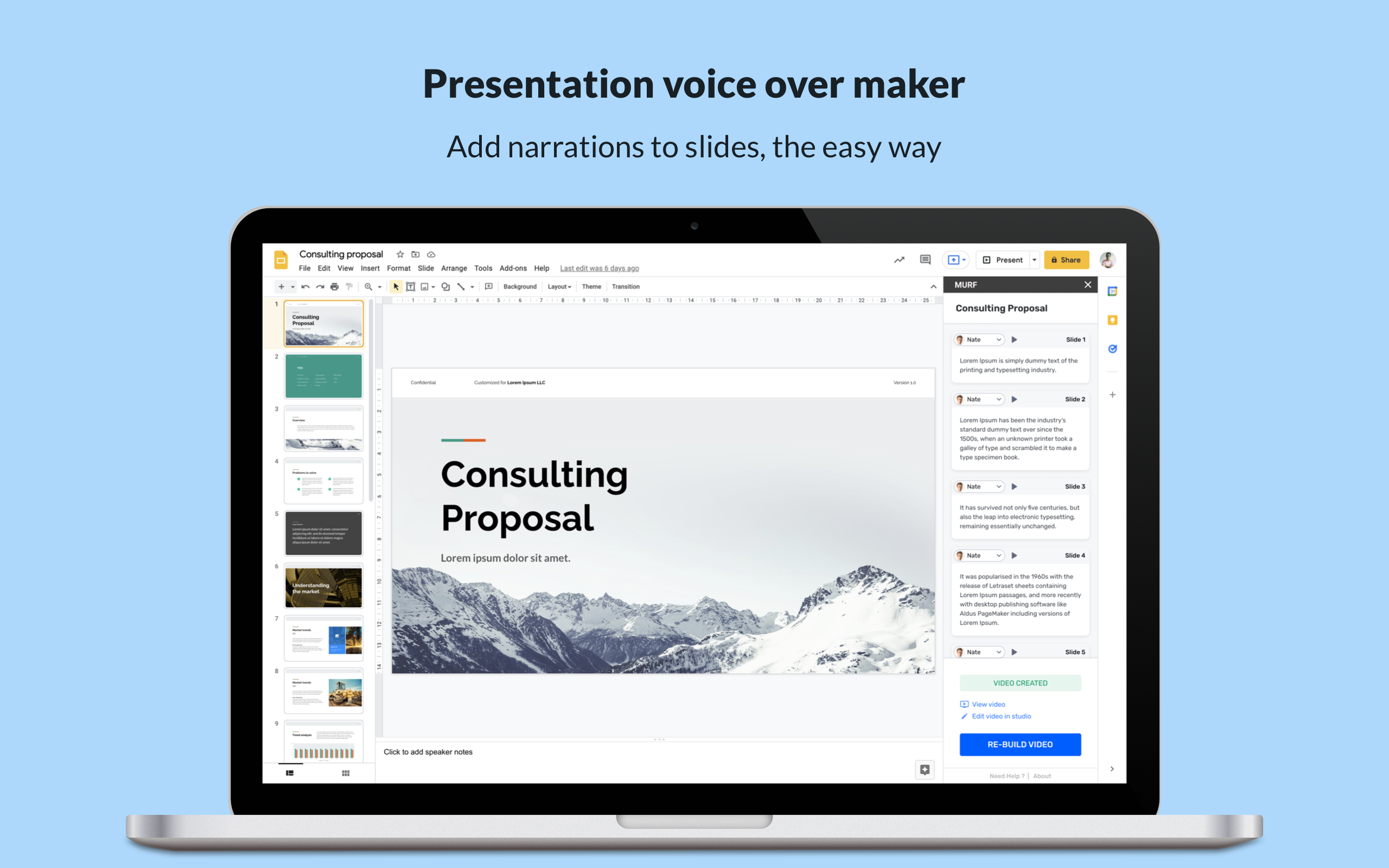 Wondering how to add voice overs to Google Slides?
Check out Murf's new Google Slides Voice Add-on 
Create voice overs for your slides instantly
How to add voice over to Google Slides? - Instantly!  With a simple add-on, you can now write and edit your voice over script while creating your presentations on google slide. You have complete control over your slides and voice over. 
Choose a voice that suits the tone of your presentation 
Creating impactful voice over presentations means nailing the right tone and delivery of your narration. If you are wondering how to add audio to Google Slides, this new add-on not only allows you to write and edit voice over scripts, but play all the available AI voices in your subscription plan and choose the ones that fit your presentation the best.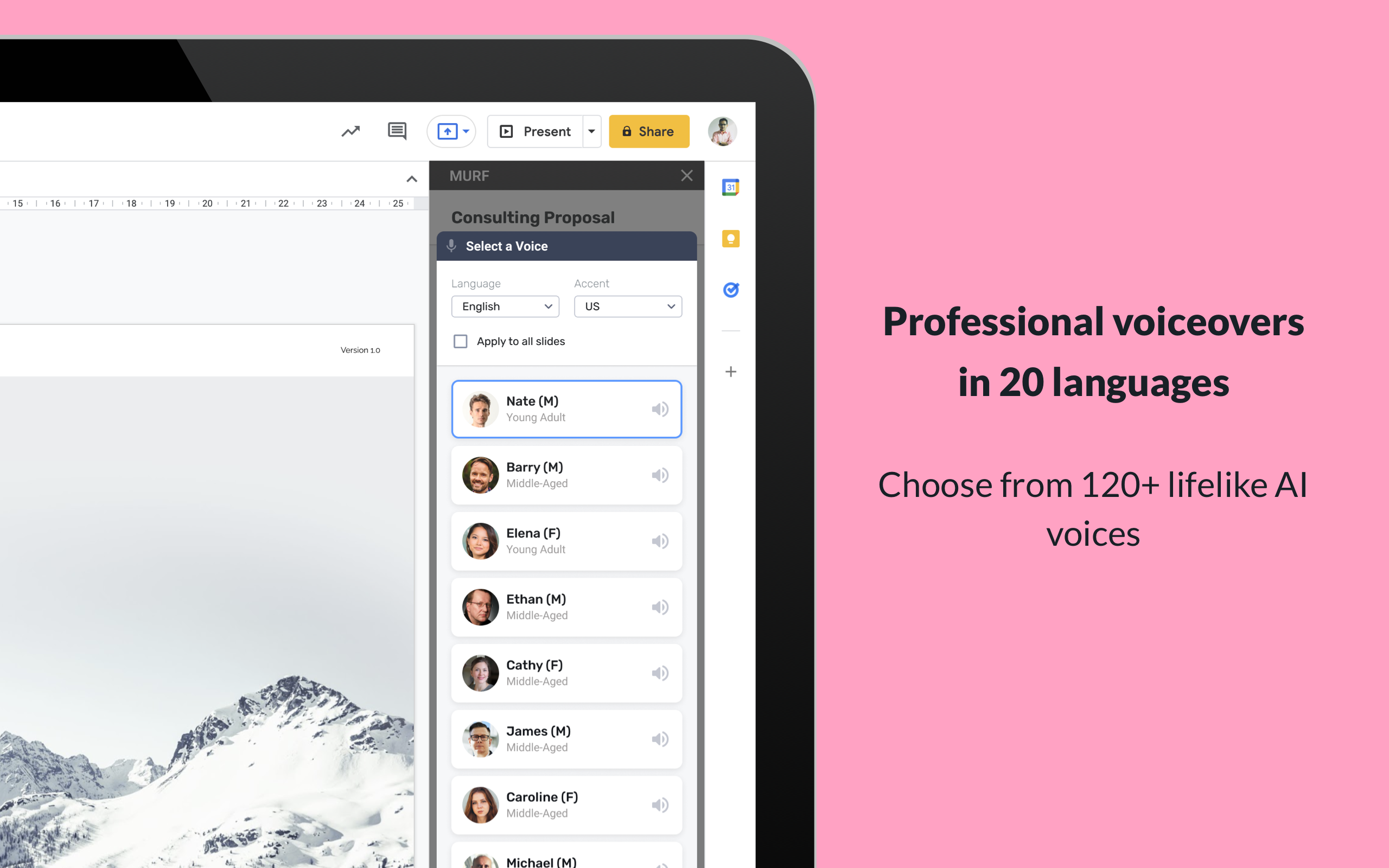 Automated time syncing with slides
Use Murf voice over Google Slides to automatically sync the narration to your presentation. As you add a script for your voice over for each slide, your slides will appear during the presentation as per the time of the voice over attributed to that slide. 

Find detailed instructions on how to use the Google Slide addon here.
Transform your Google Slides to voice over presentations
Customise the delivery of your voice over 
All the voice customisation features are available for google slide voice overs as well. Once you have added the voiceover script to your slides, you can open the project in Murf studio and fine tune the delivery. Use relevant emphasis and pronunciation to make your voice over presentations more effective.
Choose slide-specific AI voices
Murf voice over Google Slides allows you access to the library of voices within Google Slides. You can choose an AI voice for each of your slides individually. Similar to the Studio, you can play samples for all the AI voices and select one as per the tone of your slide, and make your presentations engaging.
Collaborate on Google Slides
You can also collaborate with your team on Google Slides to create voice over presentations. And as long as the presentation is created from your Google Account (linked to Murf Account), you can open the presentation as a Murf project in the studio and download the final voice over presentation. If you are a Pro or an Enterprise user, your team can access the project in the studio and download it directly from the studio.
Create your voiceover presentation in 5 simple steps
Download Murf voice over Google Slides here.
Open a new presentation in Google Slides and switch on the Add-on from the top toolbar. You will find an option to create 'New Murf Studio Project.
Write the voice over script on the tab on the right side.
Choose a voice for your narration from the catalogue of Murf's AI voices available within the tab.
Open the project in Murf Studio and Download!
Manage your voice over presentations  from a single account
You can seamlessly move from Google Slides to Murf Studio as long as your Murf and Google Accounts are linked. When you export a new version of your presentation to the studio, all the changes in the slides and the voice over script will be reflected automatically in the studio. And each time you render your voice over script in Google Slide, it will be directly deducted from your speech synthesis time available in your Murf Account. 

Download your presentations in HD
Once you open your voice over presentation as a project in Murf studio, you can choose the dimensions and quality of your file before you download, like all other Murf projects.
FAQs
How can I download the generated video?


Under the 'Murf Studio Project' tab, at the end of your voice over script, you will find an option to open the project in Murf Studio. You can download the complete video in the desired quality from the studio. 
If I modify a slide or its voice over text, does that get deducted from my available time?


Any modification of slides in your presentation does not affect your speech synthesis time. But each render in your voice over script will be reflected in your available speech synthesis time. 
How can I upload my own voice to the video?


Google Slides provides an option to upload your audio. If you would like to upload your voice and edit it further, you will have to open the project in Murf Studio. 
Is there a way to add a pause or modify the narration speed?


The same format of adding pauses through text is available in this add-on. You can write [pause x-weak], [pause weak] and so on. You can also add upto 5 seconds of pause by writing [pause 5.0s]. You will have to open the project in Murf Studio to change the speed, or select the  duration of pause from a menu.
How can I add background music to the video?


Once you open the project in the studio, you can go to 'Soundtrack' and either upload a background music or select one from Murf Studio's royalty-free collection of music under 'Gallery'.
Can I add this voice over to my slide show mode?


The voice over will play in slideshow mode as well. You don't have to separately enable it.