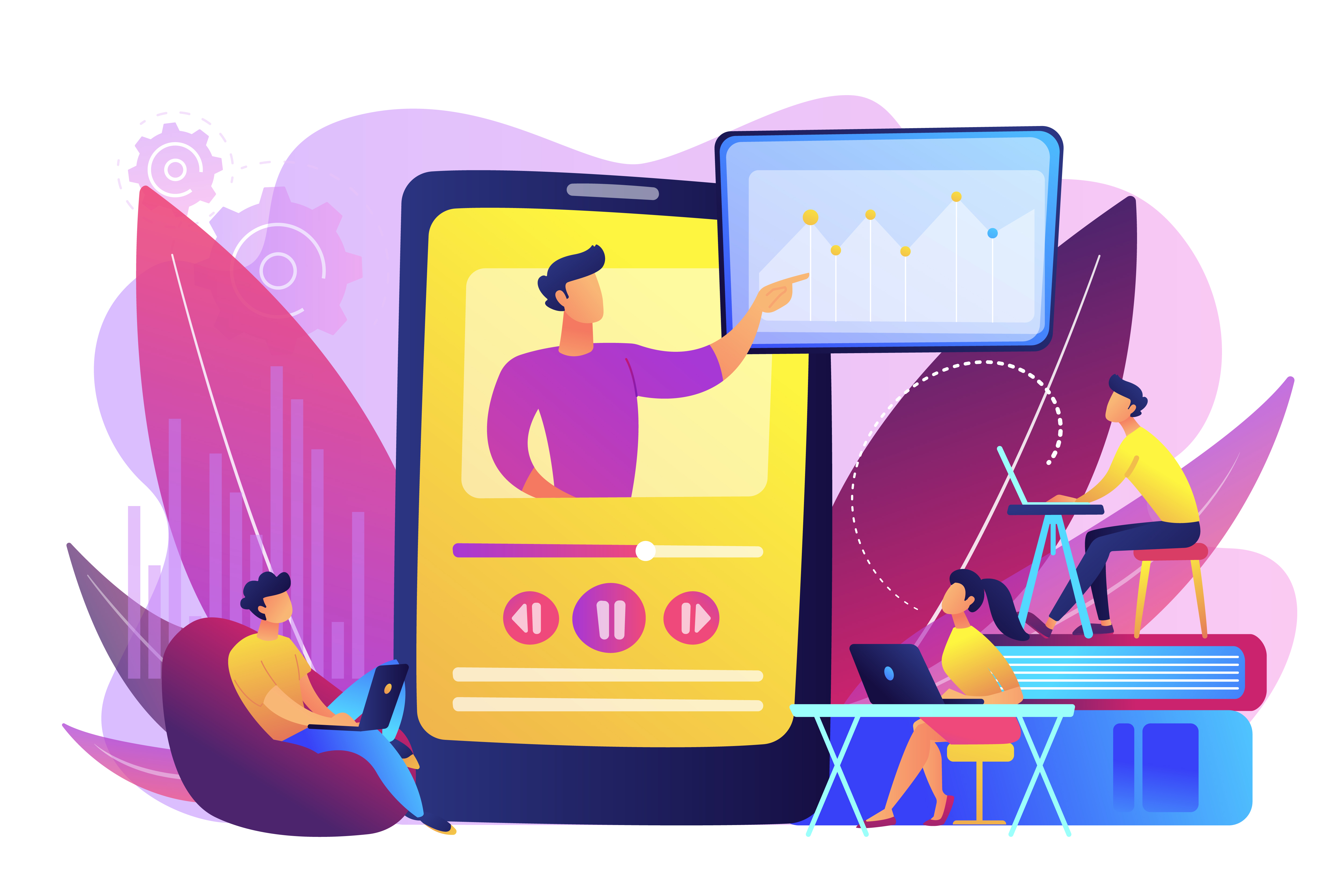 The education landscape has changed for good in recent years. The advent of text to speech (TTS) powered by artificial intelligence has had a notable impact on education by providing innovative and inclusive ways for students and educators to consume and create efficient learning materials.
In essence, text to speech tools can convert written text, articles, Microsoft Word docs, and even PDF files into spoken words. These tools are a game-changer, especially for students with blindness, dyslexia, and visual impairments. By reading the written content out loud, text to speech tools help a user understand their lessons better.
Today, the requirements of accessible education have moved beyond the limited task of simple text transcription. Perhaps, the biggest breakthrough is the newer abilities of text to speech platforms to highlight words being read, create audio-based notes, proofing, and more. TTS tools are also capable of creating audio descriptions of visual materials and support configurable reading speeds, which further helps with reading comprehension and fluency. 
TTS software not only assist students but also enables educators to produce more engaging and accessible eLearning and smart learning courses. They allow teachers to convert online text into an audio file that can subsequently be added to explainer videos, online courses, and other digital learning resources. Compared to hiring a voice actor to record the voiceovers manually, text to speech is a fantastic alternative because it saves time and money while creating the perfect voiceover learning courses.
Benefits of Text to Speech Readers for Students 
Giving students access to text to speech technology offers numerous benefits. Students can: 
Listen to reading materials at their own pace and improve understanding as well as passive learning.

Make audio recordings of lectures instead of physically writing them down. 

Improve their pronunciation and articulation by listening to words and sentences, especially those with learning impairments like Autism and Dyslexia. These individuals usually have trouble comprehending and using language.

Enhance their reading comprehension by having a speech converter speak to them, which enables them to understand the topic in articles and other online content better.

Develop better word recognition and reading fluency.

Alleviate eye strain and fatigue caused by prolonged hours of reading.

Customize the voiceovers using different accents or tones for easier comprehension. 

Increase engagement by accessing personalized content in multiple accents and voices.
Benefits of Text to Speech Readers for Educators
The days of choosing between recording studios, voice actors, or mechanical voices are long gone. Educators can now use text to speech tools to bring new dynamics in imparting knowledge to students. They can use text to speech tools to:
Create audio versions of teaching resources, including textbooks, articles, and quizzes, to make them more accessible to students.

Eliminate language barriers by offering content in multiple languages.

Develop immersive learning opportunities for students by integrating with other educational technologies like virtual and augmented reality.

Create interactive multimedia presentations, such as podcasts and movies, to assist students in getting more invested in learning. 
Top 10 Text to Speech Readers 
Murf AI
Murf AI is an easy-to-use text to speech software that makes creating voiceovers a piece of cake. With Murf AI, students can quickly and easily produce studio-quality voiceovers for their presentation projects. The software offers over 120 male and female AI voices to choose from to create human-like voicovers across 20 languages and multiple accents. With Murf Studio, students can also create flawlessly synced voice over videos with images, videos, and background music from scratch. 
On the other hand, educators can benefit immensely from Murf AI by making professional audiobook versions of the teaching resources such as textbooks, worksheets, quizzes, and reading materials. They can also add a little bit of a fun element to their voiceovers by adjusting the pitch, pause, emphasis, and speed, as well as switching between male and female voices to make the elearning module more engaging.
Speechify
Speechify is an intuitive text to speech tool that reads any textual content out loud for you. It's perfect for students who have trouble reading. The tool has a unique feature that enables it to convert text to audio using optical character recognition. This means students or educators can simply take a picture of their Google Docs or any other printed material, and the software will speak the words out loud for them. 
Speechify offers over 30 voices in 15 languages, allowing for customization of accent and tempo, and can be used by educators to provide audio study materials in multiple languages. Additionally, the software underlines the words as they are spoken, making it simple for students to follow along. This helps enhance their literacy skill and absorb complex information more easily.
WellSaid Labs
WellSaid Labs is a SaaS text to speech tool that uses deep learning to produce voiceovers. WellSaid offers an intuitive user interface and high-quality API endpoints for both personal and professional use. The ability to create and personalize voice avatars enhances the overall online experience of both students and educators. How?
WellSaid Labs provides unique features that can tremendously help educators enhance their students' learning experience. One such feature is the team collaboration, which enables a group of students to work on a voiceover project together and share ideas, feedback, and suggestions. Moreover, students can bring in versatility to their learning process, thanks to features like voice sorting, audio-by-sentence rendering, and the use of quotation marks to underline particular words. 
Natural Reader
Natural Reader is a text to speech software that can read your text aloud. A notable aspect of Natural Reader that benefits students is that it can read PDF files, docs, as well as other files of any format out loud. The software can convert text, PDF, and 20+ formats into spoken audio, enabling students to listen to their documents, ebooks, and educational materials anytime, anywhere. Natural Reader is also available as a floating widget, which makes it easier for users to read text from any web pages without integrating a third-party tool.
When it comes to educators, Natural Reader helps them in a number of ways. One of the unique features that benefits educators and administrators is that they can create a library of documents that the entire class can access. It is perfect for assignments.
TTS Reader
TTS Reader is a free text to speech tool that can be used on all modern browsers. This intuitive tool can be used by both educators and students. Simply copy and paste the text into the tool or enter the URL of a web page, and the tool will handle the rest. TTS Reader is ideal for anyone looking for an accessible and convenient way to access information without the hassle of downloading files or navigating through apps. 
Lovo AI
Students can benefit from using Lovo AI, a text to speech tool that enables the creation of natural-sounding voiceovers with over 30 different emotions. Because of its ease of use and customization in terms of adding pauses and altering speed, voiceovers sound professional. Lovo gives learners a wide range of choices to pick from, guaranteeing that they can discover the ideal voice for their voiceover needs with more than 200 distinct "voices" available in 33 languages. This saves costs by eliminating the need to spend on buying expensive recording equipment or hiring voice actors. 
Google Text to Speech
Google Text to Speech offers over 220 voices in 40+ languages and variants, enabling teachers to create study materials in a wide range of languages. With Google TTS, students can consume content on the go, moving content away from the computer screen and into whichever environment is most convenient for them. That said, the tool allows users to tweak elements like pitch, tone, and even change the voices. This is game-changer that improves everyone's listening experience.
Amazon Polly
Amazon Polly is a text to speech system that uses advanced deep-learning techniques to turn text into lifelike speech. Amazon Polly is a cost-effective speech reader option for voice generation, especially for students with limited resources, as users only pay for the text they translate. Both teachers and students can cache and reuse speech without paying extra fees, as well as save audio streams in several file formats, including mp3, Vorbis, and PCM.
IBM Watson Text to Speech
IBM Watson Text to Speech is a cloud-based API service that allows students to turn written text into realistic audio in different languages and voices. This can be done within existing applications or through Watson Assistant. For educators, this tool helps add a voice to any educational content, enhancing the teaching experience and student engagement. With male and female voices in 13 languages, the AI technology used by IBM Watson Text to Speech creates natural-sounding speech. Educators can leverage this feature to create instructional chatbots, audiobooks for visually impaired students, and more.
Read Aloud
The Read Aloud chrome extension enables students to transform written digital content into audio format, which makes it easier to retain what they are studying. The tool is compatible with a number of text file formats, including PDF, EPUB, Amazon Kindle, and Google applications such as Docs, Sheets, Classroom, and Maps. Supporting over 36 different languages, Read Aloud helps students select from a range of synthetic voices, alter the reading speed, and manage volume and reading pace. A student can also add a widget for on-demand reading to any web page and type in any text to have Read Aloud read it to them. 
Why Choose Murf Over Other Text to Speech Software?
While there are numerous text to speech tools that help educators and students improve their productivity, Murf has a clear edge because of the wide variety and realism of voices, customization features, ability to add media and background music, voice cloning, voice changer, voiceover editing, and more. Unlike traditional text to speech readers, Murf does more than just read the screen and digital text aloud from various sources.
Voices, Languages, and Downloadable Formats
Whether it is giving a voice to their study materials or adding voiceovers to YouTube educational videos, Murf AI allows educators to create voiceovers that are perfectly tailored to their audiences. The platform already has a wide selection of AI voices that span different languages and dialects. These voices can be downloaded in various formats, including mp3. WAV, FLAC, and more, making it simple for educators to incorporate them into numerous projects.
Add Music and Background Sounds
Murf allows users to create a unique text to speech experience that keeps users hooked up and engaged. Using endless customization options to add music and background sounds, students and educators can enhance their raw recordings to professional studio-quality AI voice at a fraction of the cost of hiring a voice actor. 
Add Pause, Pitch, Speed, and Emphasis
With Murf, students have a text to speech tool that they may personalize to suit their preferences for the voiceover. In contrast to conventional TTS software with a robotic tone, Murf lets users change the pitch, speed, and accent of the voiceover, adding more depth to the narration.
Create A Unique Custom Voice
With Murf's innovative AI technology, students and educators can create a unique and customizable voices for their audio projects. They can produce an AI voice clone that replicates lifelike diction, a wide spectrum of emotions, and all the subtleties of human speech using Murf's voice cloning functionality. 
What else can you do with Murf?
Voice Over Video 
Murf makes creating voice over videos a breeze. With Murf's easy-to-use editing tools, you can create studio-quality voice over videos from the comfort of your own home, neighborhood park, or favorite coffee shop. All you have to do is open the studio, import your script or video, make the necessary changes, choose an AI voice, and render. Murf also helps you get rid of any unwanted background noise, audio errors, and interruptions by editing them out of the audio. 
Voice Changer 
Whether you're unsatisfied with your voiceover or want to add a little extra flair to your project, Murf's voice changer feature is here to help. Without hiring a voice actor and in just a few clicks, you can change your voice to one of the many AI-generated options or even create a custom voice that perfectly matches your style. 
Voice Cloning 
Are you looking to make your video content stand out with its own unique voiceover? Look no further, as Murf's voice cloning is the solution you need. You can create content that stands out and defines your style. To make your audio more appealing, you can clone a voice and give it different emotions, such as happiness, sadness, or anger. Plus, you can use it in various scenarios and applications, like customer support, game development, audiobooks, and podcasts. Clone once, use forever.
Conclusion
Today, text to speech tools have become a 'go-to' solution for consuming content on the website. While it has numerous advantages for all, students and educators particularly benefit the most by simplifying, creating, and learning educational content in various languages through audio files. Students and educators can use several speech tools available in the market to optimize their learning and teaching, respectively.
FAQs
What is the best text to speech software for students?
Murf AI, Natural Reader, Speechify, and WellSaid Labs are among the best text to speech tools for students.
What is the best text to speech software for educators?
Murf AI, Speechify, Google Text to Speech,  IBM Watson TTS are some of the best text to speech tools for educators.
How can students benefit from text to speech tools?
Text to speech tools help students with word recognition, retaining information, learning pronunciation, practicing fluency, and more.