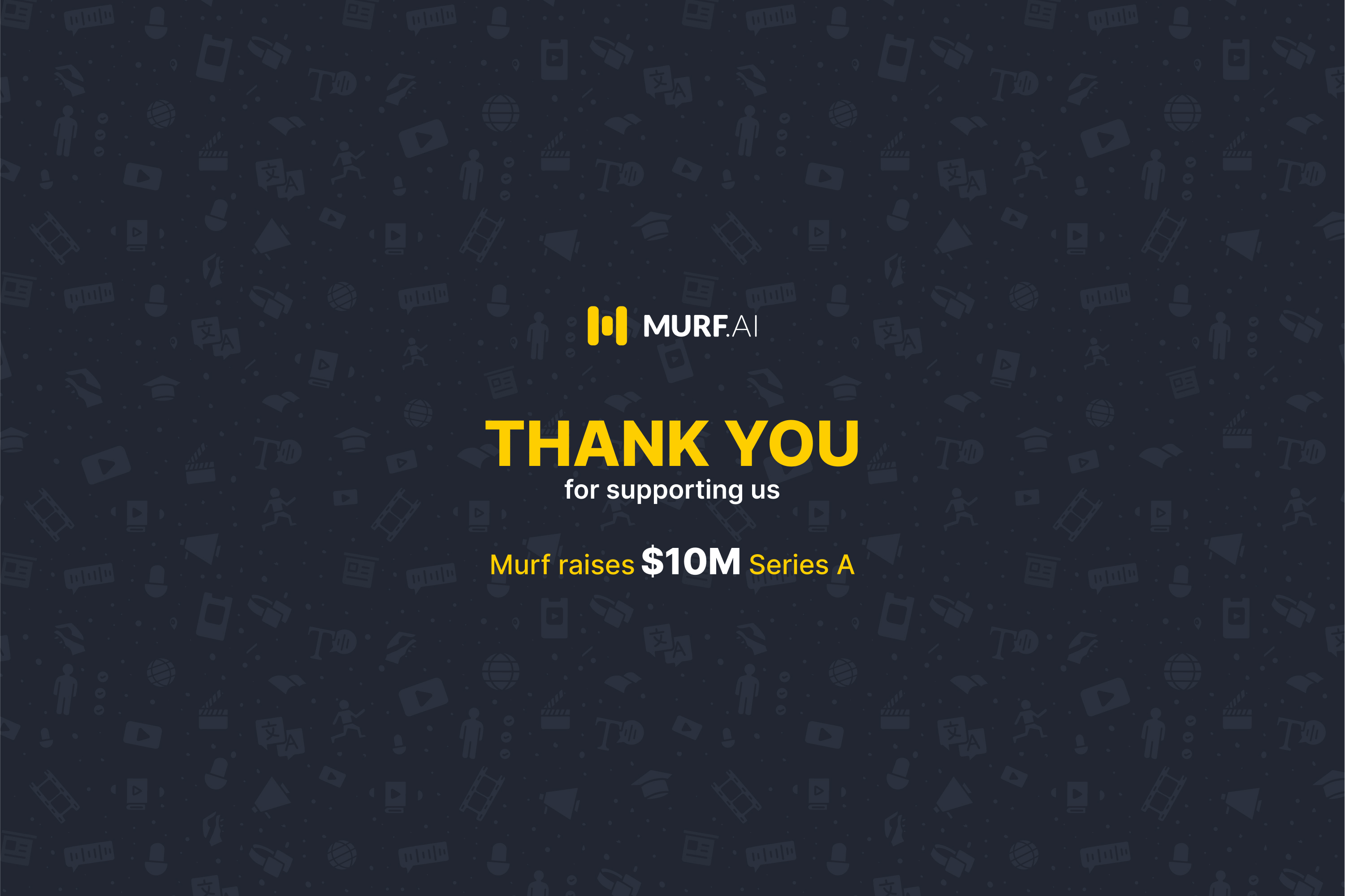 Dear customers,
We are excited to share with you that Murf AI has raised $10Mn Series A funding led by Matrix Partners India along with participation from existing investor Elevation Capital, as well as prominent angel investors. This milestone will enable us to serve you better, expand our technology's capabilities, propel Murf's global expansion, as well as marks the beginning of a new chapter for us.
It's been an exciting journey to get here. Before we dive into how everything has evolved to this stage, we would like to express our sincere gratitude for the support—without you, this would not have been possible. 
How we got here
Murf was founded in 2020 with a focus on enabling users to generate "human-like" voiceovers for their videos and presentations—without the need for complex recording equipment or hiring a voice artist. This came in after we witnessed the pain points of creating high-quality voiceovers first-hand, including the process of creating and updating product demos and recording audio/video ads. We realized there was a lack of an intuitive product that simplified voiceovers for a diverse set of use cases like advertising, audiobooks, explainer videos, and elearning. This led us on a path to build Murf.ai, a SaaS platform that makes it easy to create high-quality, natural-sounding voiceovers for any commercial purpose.
How it's been and our vision for the future
In the last 18 months, we have grown 22x in ARR and synthesized 1 million+ voice over projects. Today, our growing voice catalog supports over 120 human-parity AI voices across 20+ languages on Murf Studio that are rich with emotion and intonation and can mimic the natural prosody and pronunciation of human speech. We will continue to add new voices to our Studio across varied accents.
In the upcoming 24 months, you will see several new product feature releases, enhanced support services, and more talented people to help build the platform for you.
Big thanks to you! 
Your support and feedback have and will continue to play an important role as we develop our platform. We continue to be motivated and driven by the goal of delighting our customers and will work together to create a seamless, intuitive, and enjoyable experience for you. We can't wait to see what the future holds. We're just getting started.
Sneha, Ankur, and Divyanshu
Co-founders
Murf AI