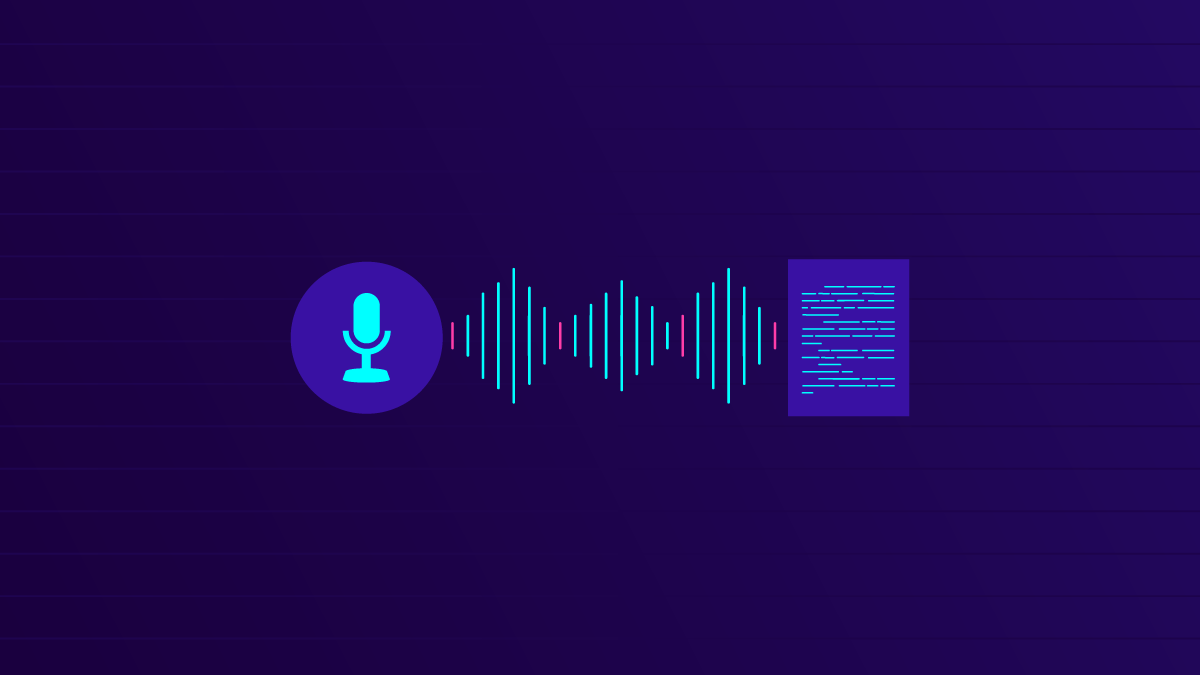 What is Speech Recognition Technology?
Imagine being able to control electronic devices, order groceries, or dictate messages with just voice. Speech recognition technology has ushered in a new era of interaction with devices, transforming the way we communicate with them. It allows machines to understand and interpret human speech, enabling a range of applications that were once thought impossible.
Speech recognition leverages machine learning algorithms to recognize speech patterns, convert audio files into text, and examine word meaning. Siri, Alexa, Google's Assistant, and Microsoft's Cortana are some of the most popular speech to text voice assistants used today that can interpret human speech and respond in a synthesized voice.
From personal assistants that can understand every command directed towards them to self-driving cars that can comprehend voice instructions and take the necessary actions, the potential applications of speech recognition are manifold. As technology continues to advance, the possibilities are endless.
How do Speech Recognition Systems Work?
speech to text processing is traditionally carried out in the following way:
Recording the audio: The first step of speech to text conversion involves recording the audio and voice signals using a microphone or other audio input devices.

Breaking the audio into parts: The recorded voice or audio signals are then broken down into small segments, and features are extracted from each piece, such as the sound's frequency, pitch, and duration.

Digitizing speech into computer-readable format: In the third step, the speech data is digitized into a computer-readable format that identifies the sequence of characters to remember the words or phrases that were most likely spoken.

Decoding speech using the algorithm: Finally, language models decode the speech using speech recognition algorithms to produce a transcript or other output.
To adapt to the nature of human speech and language, speech recognition is designed to identify patterns, speaking styles, frequency of words spoken, and speech dialects on various levels. Advanced speech recognition software are also capable of eliminating background noises that often accompany speech signals.
When it comes to processing human speech, the following two types of models are used:
Acoustic Models
Acoustic models are a type of machine learning model used in speech recognition systems. These models are designed to help a computer understand and interpret spoken language by analyzing the sound waves produced by a person's voice.
Language Models
Based on the speech context, language models employ statistical algorithms to forecast the likelihood of words and phrases. They compare the acoustic model's output to a pre-built vocabulary of words and phrases to identify the most likely word order that makes sense in a given context of the speech. 
Applications of Speech Recognition Technology
Automatic speech recognition is becoming increasingly integrated into our daily lives, and its potential applications are continually expanding. With the help of speech to text applications, it's now becoming convenient to convert a speech or spoken word into a text format, in minutes.
Speech recognition is also used across industries, including healthcare, customer service, education, automotive, finance, and more, to save time and work efficiently. Here are some common speech recognition applications:
Voice Command for Smart Devices
Today, there are many home devices designed with voice recognition. Mobile devices and home assistants like Amazon Echo or Google Home are among the most widely used speech recognition system. One can easily use such devices to set reminders, place calls, play music, or turn on lights with simple voice commands.
Online Voice Search
Finding information online is now more straightforward and practical, thanks to speech to text technology. With online voice search, users can search using their voice rather than typing. This is an excellent advantage for people with disabilities and physical impairments and those that are multitasking and don't have the time to type a prompt.
Help People with Disabilities
People with disabilities can also benefit from speech to text applications because it allows them to use voice recognition to operate equipment, communicate, and carry out daily duties. In other words, it improves their accessibility. For example, in case of emergencies, people with visual impairment can use voice commands to call their friends and family on their mobile devices.
Business Applications of Speech Recognition
Speech recognition has various uses in business, including banking, healthcare, and customer support. In these industries, voice recognition mainly aims at enhancing productivity, communication, and accessibility. Some common applications of speech technology in business sectors include:
Banking
Speech recognition is used in the banking industry to enhance customer service and expedite internal procedures. Banks can also utilize speech to text programs to enable clients to access their accounts and conduct transactions using only their voice.
Customers in the bank who have difficulties entering or navigating through complicated data will find speech to text particularly useful. They can simply voice search the necessary data. In fact, today, banks are automating procedures like fraud detection and customer identification using this impressive technology, which can save costs and boost security.
Healthcare
Voice recognition is used in the healthcare industry to enhance patient care and expedite administrative procedures. For instance, physicians can dictate notes about patient visits using speech recognition programs, which can then be converted into electronic medical records. This also helps to save a lot of time, and correct data is recorded in the best way possible with this technology.
Customer Support
Speech recognition is employed in customer care to enhance the customer experience and cut expenses. For instance, businesses can automate time-consuming processes using speech to text so that customers can access information and solve problems without speaking to a live representative. This could shorten wait times and increase customer satisfaction.
Challenges with Speech Recognition Technology
Although speech recognition has become popular in recent years and made our lives easier, there are still several challenges concerning speech recognition that needs to be addressed.
Accuracy may not always be perfect
A speech recognition software can still have difficulty accurately recognizing speech in noisy or crowded environments or when the speaker has an accent or speech impediment. This can lead to incorrect transcriptions and miscommunications.
The software can not always understand complexity and jargon
Any speech recognition software has a limited vocabulary, so it may struggle to identify uncommon or specialized vocabulary like complex sentences or technical jargon, making it less useful in specific industries or contexts. Errors in interpretation or translation may happen if the speech recognition fails to recognize the context of words or phrases.
Concern about data privacy, data can be recorded.
Speech recognition technology relies on recording and storing audio data, which can raise concerns about data privacy. Users may be uncomfortable with their voice recordings being stored and used for other purposes. Also, voice notes, phone calls, and recordings may be recorded without the user's knowledge, and hacking or impersonation can be vulnerable to these security breaches. These things raise privacy and security concerns.
Software that Use Speech Recognition Technology
Many software programs use speech recognition technology to transcribe spoken words into text. Here are some of the most popular ones:
Nuance Dragon.

Amazon Transcribe.

Watson Speech to Text

Deepgram
Conclusion
To sum up, speech recognition technology has come a long way in recent years. Given its benefits, including increased efficiency, productivity, and accessibility, its finding applications across a wide range of industries. As we continue to explore the potential of this evolving technology, we can expect to see even more exciting applications emerge in the future.
With the power of AI and machine learning at our fingertips, we're poised to transform the way we interact with technology in ways we never thought possible. So, let's embrace this exciting future and see where speech recognition takes us next!
FAQs
What are the three steps of speech recognition?
The three steps of speech recognition are as follows:
Step 1: Capture the acoustic signal
The first step is to capture the acoustic signal using an audio input device and later pre-process the motion to remove noise and other unwanted sounds. The movement is then broken down into small segments, and features such as frequency, pitch, and duration are extracted from each piece.
Step 2: Combining the acoustic and language models
The second step involves combining the acoustic and language models to produce a transcription of the spoken words and word sequences.
Step 3: Converting the text into a synthesized voice
The final step is converting the text into a synthesized voice or using the transcription to perform other actions, such as controlling a computer or navigating a system.
What are examples of speech recognition?
Speech recognition is used in a wide range of applications. The most famous examples of speech recognition are voice assistants like Apple's Siri, Amazon's Alexa, and Google Assistant. These assistants use effective speech recognition to understand and respond to voice commands, allowing users to ask questions, set reminders, and control their smart home devices using only voice.
What is the importance of speech recognition?
Speech recognition is essential for improving accessibility for people with disabilities, including those with visual or motor impairments. It can also improve productivity in various settings and promote language learning and communication in multicultural environments. Speech recognition can break down language barriers, save time, and reduce errors.