#g2award
Murf AI is Now a G2 Momentum Leader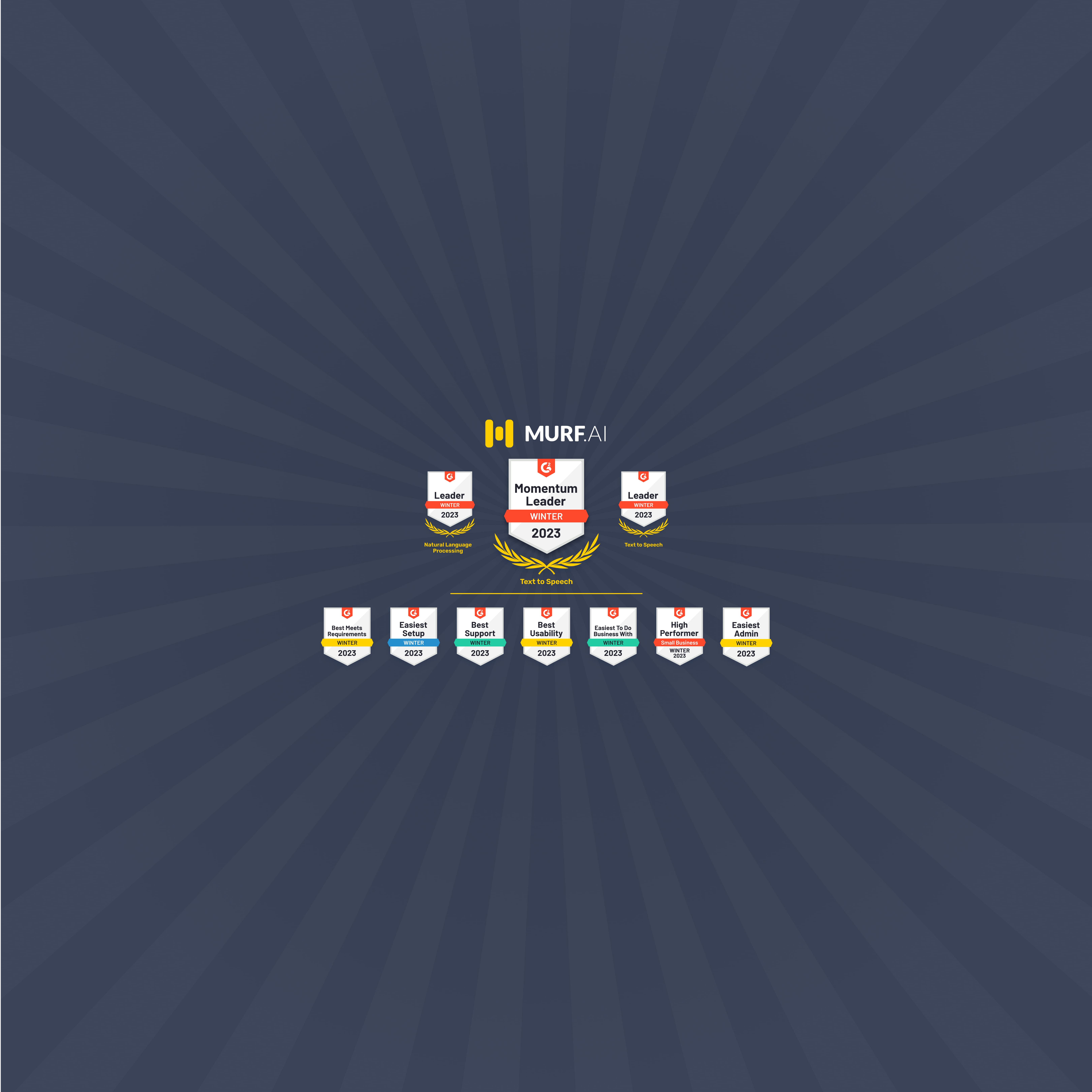 We are humbled and excited to be named a 'Momentum Leader' in G2.com's Winter 2023 report under the Text to Speech category, collectively won 18 badges across categories after being recognized as a 'Leader' in G2.com's Fall 2022 and 'High Performer' for three consecutive quarters in G2.com's Summer 2022, Spring 2022, and Winter 2022 Reports. 
The honour comes hand-in-hand with an achievement of 98% of users rating Murf 4 or 5 stars and 90% believing we are headed in the right direction. 
We want to thank all of our customers for leaving us positive feedback. It is with your support that we were able to get recognized as a momentum leader. This achievement will further solidify our commitment to helping our customers find their voice and use it to be a force for change!
Among the badges earned, we hold the spot for:
🥇Leader—Text to speech and Natural language processing
🥇Leader Small Business—Natural language processing
🥇High Performer Small Business—Audio editing and Text to speech
🥇High Performer—Audio editing and Transcription
⭐Best Support—Audio editing
⭐Best Usability—Text to speech and Natural language processing
⭐Easiest Admin—Text to speech and Natural language processing
⭐Easiest Setup—Text to speech and Natural language processing
⭐Easiest To Do Business With—Text to speech and Natural language processing
⭐Best Meets Requirements—Text to speech
Every quarter, G2 highlights the top-performing software in a given industry based on user reviews, customer satisfaction, and market presence. Their rankings are based entirely on real customer feedback and reflect the most important aspect of a text-to-speech software company, that is, customer success. Each review is verified by a team at G2 to make sure they are authentic and unbiased.
At Murf, we pride ourselves on delivering a simple, easy-to-use, and intuitive product but with the added benefit of the G2 trust badge, we are happy to see this reflected in the opinions of our customers and users.
See what Murf Customers have to say on G2:
We have gained over 55 reviews on G2, and here are some of our clients' most recent feedback:
"Well organized and easy to access all of their voices. I say this because I have a storytelling podcast and write long scripts utilizing different voices as my characters. This is one of a few A.I. voice websites that utilize great African American voices. You can choose from middle age to young adult. As a customer, I also have options such as pitch, speed, emphasis, volume and, more." – Suzanne D, Self-employed video editor and audio creator
"Murf offers a variety of different voices in a variety of languages to suit the purpose for which your audio creation is needed. I've used it for both English and French audio needs. I was impressed immediately with the quality of the AI voices. Murf.ai has greatly decreased the costs of creating audio tracks for many of our courses, without sacrificing quality. The flexibility alone to fix errors or make changes to scripts is priceless!" – Kathy T, Program development manager / Instructional designer
"It is easy to use. It has saved us money from recording professional talent services. It has saved us the time from having to email voice-overs scripts. It has saved us money and time while waiting for voice-overs to be recorded. Now, we can update our courses, media files, and advertisements in different languages and a variety of voices in minutes." – Eric B, eLearning graphic and instructional designer
Visit our G2 profile to read more reviews or leave one of your own.
Murf AI is an online text to speech tool that enables users to create lifelike, natural-sounding voiceovers in over 120 voices across 20+ languages and accents. The AI-enabled SaaS platform can be used for e-learning, advertising, content creation, and more. 
Want to learn more about how Murf simplifies voice audio and helps you create voiceovers for videos and presentations in minutes? Visit us at https://murf.ai/.